Current Auctions
Greg Clingan Auctions always has events coming up. Check back often as our current auction page is always being updated. If you have an interest in Greg Clingan Auctions handling your auction needs contact us today.
Greg Clingan Auction & Real Estate serves West Central Indiana & Eastern Illinois, including Fountain, Warren, Vermillion, Parke, Montgomery Counties, Covington IN, and Danville IL areas.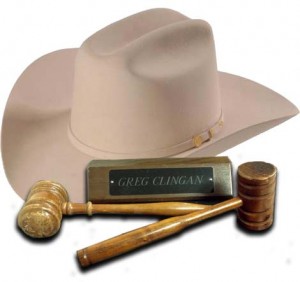 Location: 314 Walnut Street, Mellott, Indiana.  Southwest end of town. (Watch for Clingan signs) SATURDAY, OCTOBER 7, 2017 11 A.M.    J.D. 4020 TRACTOR – FORD 700 GRAIN TRUCK  2005 CHEVROLET COBALT – 1994 GMC SIERRA PICKUP  J.D. ROTARY MOWER – J.D. LAWN TRACTOR – POLARIS 4 WHEELER   1969 J.D. 4020 Diesel tractor with 4,802 hours with […]
Click Here For More Details
---
Upcoming Public Auction, Covington | Indiana Saturday, October 21 | 11 A.M. EDT Antiques | Collectibles | Furniture | Appliances Oak Dining Table with pull-out leaves, turned legs and five chairs; matching buffet with etched three-section mirror; six-drawer dresser with tilt mirror; 4 – 1950's flex chairs; oak rocker with bentwood seat; three drawer quarter […]
Click Here For More Details
---
PUBLIC AUCTION | Covington, Indiana  OCTOBER 21, 12 NOON  3 BEDROOM HOME WITH SMALL ACREAGE 2-ACRE BUILDING SITE  WOODS, PASTURE + POTENTIAL BUILDING SITES Rhonda Gentrup, Marvin Trimble, James Trimble, Karen Covington – Owners  Auction Conducted By: GREG CLINGAN, AUCTION & REAL ESTATE 404 LIBERTY STREET, COVINGTON, INDIANA 765-793-7315 Facebook @gregclingan www.gregclingan.com IN License: […]
Click Here For More Details
---
Public Auction: Mellott, Indiana | Saturday, October 7 | 11 A.M. ET – John Deere Lawn Tractor; Grain Truck; Pickup/Auto; Shop Tools; Rotary Mower
Click Here For More Details
---
UPCOMING AUCTIONS August 26 @ 11 AM Larry Pool Estate, Veedersburg, Indiana Furniture, Antiques, Collectibles August 27 @ 12 NOON Floyd E. Boyer Estate, SW of West Lebanon, Indiana Home, Garage, Barn 35 Acres Woods, Pasture, Creek, Furniture, Appliances, Ford Tractor, Guns, Tools, Hay Wagon September 2 @ 11 AM – CANCELLED Reynolds Estate, Attica, […]
Click Here For More Details
---
Location: Vermillion County Fairgrounds (4-H Building) Cayuga, Indiana.  106 E Maple Street, Cayuga, Indiana.  South end of town just off of State Road 63. SATURDAY, SEPTEMBER 23, 2017
Click Here For More Details
---
Click here for Esther M. Vandevender Estate Auction Photos Location:  947 W C.R. 250 N, Dana, Indiana or 1.5 miles South of Cayuga on C.R.  50 W to C.R. 250 N, then ½ mile West.  (South of brickyard) SATURDAY, SEPTEMBER 16, 2017 11 A.M. E.D.T.      ANTIQUES – COLLECTIBLES – PRIMITIVES – BUTCHERING EQUIPMENT ARROW […]
Click Here For More Details
---
Auction: 13546 N 200 E, Perrysville, Indiana or 2 Miles North of Perrysville on County Road 200 E, or 4 Miles South of former Apple Chevrolet building on 200 E.
2 Homes on 5.56 Acres in Highland Township, Vermilion County, Indiana, with Fenced Pasture
Home 1 – 2 Beds, 2 Story, 2.5 Baths, Living Room with Fireplace, Kitchen, Dining Room, Office, Large 3-Season Room with Fireplace, Hardwood Flooring, Partial Basement, Gas Heat, Electric Baseboard Heat, Vinyl Exterior, Drilled Well, 2,096 sq. ft. living area, new metal roof, 2-car garage/barn, 3-sided open shed (500 sq. ft.) Many updates.
Home 2 (Mother-in-Law Suite) – 1 Bedroom with Kitchen, Dining Room, Living Room, Bath, 918 sq. ft. Living Area, Built 1935, Vinyl Exterior, Electric Baseboard Heat.
Click Here For More Details
---
Covington City Park Playground Used Playground Equipment (March 2018) More details to follow, including terms.  Pieces will be removed from ground and sold as-is.  All proceeds will go toward the new Covington City Park Playground Project breaking ground, same day.
Click Here For More Details
---
23.519 Acres, Woods & Pasture | $79,000 Located on County Road 450, Williamsport, Indiana OR Southwest of West Lebanon, just west of State Road 63 in Steuben Township Greg Clingan, Auction & Real Estate 404 Liberty Street, Covington, Indiana Phone: 765-793-7315 Fax: 765-793-7608 gregclingan.com Greg Clingan Auction & Real Estate
Click Here For More Details
---