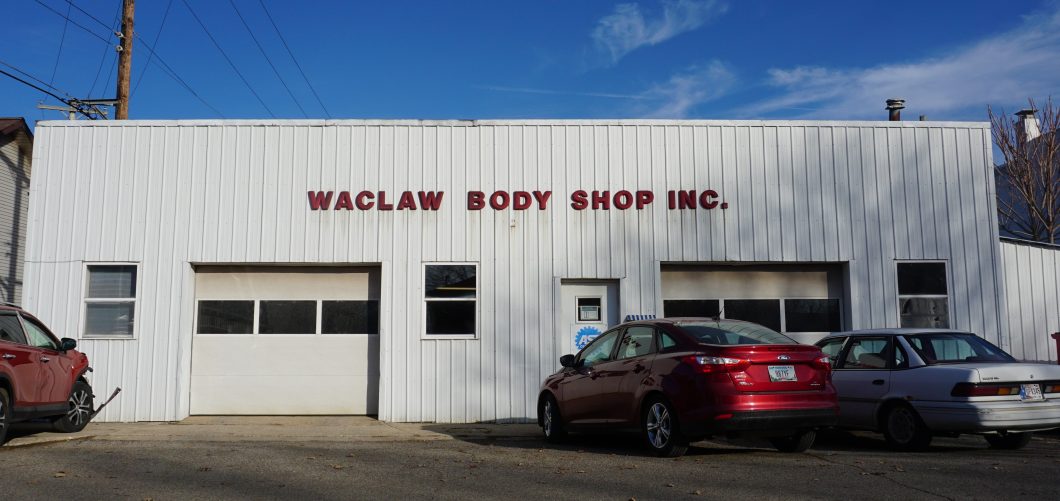 Active
AUTO BODY SHOP
210 Third Street – Covington, Indiana
Lot – Building – Equipment
Turnkey longtime business established in 1961 including a 2,837 Sq. ft. concrete block building built in 1928 and lot.
Paint booth and all business equipment included.
ABOUT THIS PROPERTY: Just a short block from the Fountain County Courthouse and right in the center of activity, stands Waclaw Body Shop. It has been operated successfully for 58 years. Edward B Waclaw purchased the body shop from Darrell Bever in 1961, he ran a successful business and then sold it to his son, John Waclaw, who has continued to build the business into the premiere auto body repair shop in Covington.
The property has a rich history. The original track of land was granted to Isaac Coleman by Ulysses S Grant, on September 1, 1826. Coleman was also responsible for mapping out Covington.
Around 1900, it was a cooperage Shop where barrels were made by hand for flour and wheat and were shipped via the Erie Canal to the North.
Charles Tittle took possession around the turn of the 20th century and opened a blacksmith shop. There are still reminders of the blacksmith era, such as a heavy beam in the north wall which had large rungs in it that held the horse while it was being shod. There are indentations in the floor where the pot belly stove stood as customers warmed themselves and spun yarns.
Embedded in cement are a huge horseshoe and nine small ones in the center in the sidewalk in front of the shop – bringing comments from many people as they enter.
When Tittle retired to Florida, the shop was sold to Darrell and Ruth Bever, who enlarged the building to its present size and started an auto body repair business.
In 1961, after working for the Bever's, Edward B Waclaw purchased the shop. He was an entrepreneur who saw the potential in this quality auto body repair shop in his adopted community of Covington and chose to make auto body repair his vocation.
His son, John Waclaw, worked alongside Ed and the hired hands and learned the business from a very young age. As a small boy, John showed a real mechanical aptitude. He started by sweeping up the floors and progressed into working alongside his dad. John chose to enhance his knowledge of automobiles by continuing this education at Ivy Tech, earning his Associates Degree in Automobile Mechanics. He brought this knowledge back to Waclaw Body Shop, taking over the business after his Father retired. He continued to grow his knowledge by adding an extensive Kansas Jack frame repair system and leading his team in earning their ASE Certification.
Operating his own business has allowed John to be a man who is present in the lives of his wife and children. Rarely missing a ballgame, he adjusted his hours from 8-5 to 7-4, ensuring that he could leave in time to watch them as they played sports and enjoyed other extracurricular activities. He learned early on that having a skilled trade instrumentally ensured that he has always had work. Waclaw Body Shop is a thriving business with a well-earned reputation of quality craftsmanship with a hometown heart.
| | |
| --- | --- |
| Price: | 290,000.00 |
| Address: | 210 Third Street |
| City: | Covington |
| County: | Indiana |
| State: | Indiana |
| Zip Code: | 47932 |
| MLS: | 201948906 |
Listing Inquiry