Crain Brothers- Owner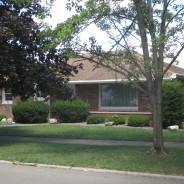 PUBLIC AUCTION

 
Location:  515 Pearl Street, Covington, Indiana. ( Just South Covington High School )
SATURDAY, JULY 30, 2016   11 A.M.
3 BEDROOM BRICK HOME WITH LARGE 2.5 CAR ATTACHED GARAGE
   
 
2 baths, living room, kitchen,  dining room, large den, partial basement, 2.5 car attached garage – 990 Sq. ft.,  approximately 2,555 sq. ft. living area, asphalt driveway, built 1954,  central air, gas furnace, situated on a .20 acre lot.
Terms:  10% down day of auction with balance at closing within 30 days after auction.  Sold subject to owner confirmation.  Taxes prorated to day of closing. Home will sell at 12 Noon.        Open House: Sunday, July 24 – 1 P.M. to 2 P.M
DODGE VAN – ANTIQUES – COLLECTIBLES – FURNITURE – OLD TOYS
ADVERTISING – GLASSWARE – HOUSEHOLD – TOOLS– JEWELRY 
249 photos available at auctionzip.com 
1993 Dodge Ram 250 van, 8  passenger – 103,000 miles loaded, very clean – will sell after real estate; ornate cranberry glass bud vase; square, yellow basket weave depression dish with lace edge; Germany C.T. #39 set of 6; electrified kerosene lamps; 3-Z.S. Bavaria decorator plates; limited edition coal port Indianapolis 500; wedge wood #258/2000 plate; 1950's- 14 stemmed glasses clear with brown and yellow swirl; Johnson Bros porcelain tea pot with roses; open salts, salt server;  cut glass bowls; pink depression pitchers & 9 glasses; pink depression pitchers and 4 glasses; yellow depression butter dish and others; eggshell Priscilla c 45N5 dishes 7 place sittings; opal essence plates and dishes; metal truck; music box; Oneida stainless silverware; silverware oddities; colored glass; head vases #S348B, C3343C, NAPCO 1958; carnival glass; Bird collection, crystal birds lepton, Fenton, 5 pelicans; toothpick holder collection; slag glass toothpick holder; J.G. Meakin milk pitcher; ice buckets;  Covington 1826 plate;  florescent desk lamp; stemware; glassware; punch bowls with cups; Great Smoky Mountain mini-view finer; basketball pin ball game; green depression child's plate; animal flower pots; perfume bottles; lots of assorted clear serving dishes; clear etched wine & sherbet glasses; glass basket; toy A.M.T INC Coupe de Ville model hard top tin chaise; marble book ends; spoon jar; egg plates; stemmed serving dishes; cut glass; Fostoria; walking canes; mirror wall hanging; regulator battery wall clock;   3 walking canes; antique apple corer; set of roman glasses with carrier; stopwatch; imperial hatchet and hunting knife; 40 automobile collector cards; Hall's tea pot; tea pot collection; carnival glass dish; 6 Johnson Bros. porcelain butter pot/tea bag plates; 5 J&G Meakin iron stove butter pat/tea bag plates; milk glass; pink depression; green depression; blue glass; lots of nice dishes; crystal candlesticks; serving dishes; cake stands; platters; linens; 3 panel oak screen frame; large youth rocker; 2 directors chairs; jar of business cards; wooden coat stand; old baskets; Coca Cola bottles; canning jar; Taylor Harelor milk bottle; silver seal Meadow Gold milk bottle; baking tins; Maple 3 drawer chest; 5 foot metal floor lamps; 60 in long white oak drop leaf table, pride lift chair; 2 tier maple lamp table; matching end tables (maple) with drawer; red lava lamps; living room lamps; 7 ft. oak corner glass china cabinet; 3 globe amber pole lamp; metal hall tree; oak student desk chair; oak china cabinet; oak library table; beautiful large mahogany desk; large magnifying lamp; carved cigar holder; 1880 A.H. metal Sprankieatag Covington. IN; Meyer Co. watch fob; the Great War for civilization medallion; Cracker Jack prizes; cypress garden souvenirs; Emenee golden piano accordion #405; cobbler shoes; iron corn bread mold; magazine racks; exercise bike; twin brass head board; C&W Harvey Florentine dish; statue bookends; pitcher and 6 glasses; candy dishes; ceramic purse jewelry boxes; slab of 24" octagon marble; flower vases; tomahawk; white glass eggs; Century of Progress 1934 thermometer and picture; advertisement screwdrivers; light globes; Maryland Club tobacco bag; Montgomery Ward 30 day clock in box; German kerosene lamp project and 25 slides; 6 ft. showcase with mirror sides; map of US made of buttons; music books; lots of postcards; stainless steel bowl; cigar box of crystal rocks; 1927 children's Pitter Patter book; vintage children's clothes; 78 RPM record album; Curley Bradley 'The Tom Mix' of radio; old Flinch card game; memo pad The Singing Tower, FL; 8 Italian ornate spoons; silverware; serving wear; boot matchbox with striker soul; White Flying Horse Station horse; money clip boxes; Venice watch (ladies) Gruen; 2 Mexican opals; old wooden blocks; Bakelite hair lifter; Pontiac visor mirror; Tokens; Osh Kosh clicker; assorted advertisement  Zippo lighters; pocket knives; nursery rhyme toilet paper; old airplanes and apple tree game; silver Puss in Boots fork; Alfred Meakin pitcher and bowl set; jewelry; ladies hats; electrified kerosene lamp; Bakalite dresser set; mesh metal purse; Petit Point purse with beads; old Virginia snow rug needle; old hair styling items; 14 KG ring with stone; shoe brush collection;  canvas money bags; lots of Covington literature; scrap books; coronet; U.S. mail pouch; Marine handbook; Tarawa Marine history; 1884 The Golden Gift Poems; 1893 Bio of Ben Franklin; Cornells Intermediate Geography and others; 1896 Life of George Washington;  Tufted back floral sofa & chair; Round 48" oak coffee table with Formica top; oval marble top ornate lamp table; brown Lazy Boy rocker/recliner; 2 large brass & glass lamps; triangle shaped end table; striped living room chair; 7 drawer white oak desk with chair; tan vinyl rocker; double brass bed; twin bookcase headboard; Raggedy Ann baby crib; Structo auto transport (metal) ; oak sewing table; steel clamp on ice skates; ice shaver; Aladdin lamp card holder; Elite battery ammeter; Corn huskers; old miter saw; Oak kitchen chairs (old); Trolling motor (Minn Kota); large Aluminum pan w/handles; 1948-1949 ledgers; Curtain stretchers; Schwinn Bike (needs tires); Dietz lantern; Standard Oil thermometer; Western Flyer bicycle; 10 Hall bowls #434; Shuffle board sticks (aluminum); candle mold; wood egg crate; 1890 Wide Awake magazine; lap board; 1928 instruction for Chevrolet autos; 1914 Overland auto manual; 1905 Frisco Oklahoma Indian Territory book with maps; tube of milk bottle tops; old doll;  2 postal scales (Victor, Liberty); string dispenser; faucet set (old); ACME egg scale; German toy top; Singer tiny serger; crazy quilt; sheet music; checometer; skeleton keys; rug beater; old linen calendars; J.D. pocket ledgers; 1918 draft card; 1945 Covington  sectional champs; Daisy 99 BB gun with wood stock; Boy Scout backpack and books; Kewanee Boiler Co. steam gauge; Ashcroft altitude 1896 gauge; Daisy BB w/plastic stock; Golden Eagle Express semi-truck (metal) ; Duncan semi-truck (plastic); small Tonka dump truck; blonde 4 drawer chest; roll-away bed; walnut vanity with large mirror with stool;   toy chest; oak rocking chair; 4 oak captain chairs; Hanson nursery scale; old oak picnic basket; entire case of Covington advertising items; Royce C.B.; Pfaltzgraf soup tureen; 33 1/3 LP records; games and more games; 8 track tapes; Panasonic video player; waffle iron; water skis; 3 panel wooden screen (green); clothes drying racks; round kerosene heater; Micro Design 910 viewer; German coo-coo clock; seasonal items; large pickle jar; old 3 panel hanging mirror in frame; silver spoon collection; Toastmaster pastry toaster; toaster oven; casserole dishes; small kitchen appliances; Pyrex; Samsonite card table; 7 x 35 focal binoculars; Osh Kosh RR hat and size 42 Bib overhauls; 6 cushion sofa geometric flowers; working Sony 42" (15" deep) not a flat screen; GE VCR works; metal hall tree; 2" rope; wind chime; Corning Ware; antique basket rack; several hand tools; ridgeway; anniversary clock; many other fine items.
Terms: Cash or check with proper I.D. for buyer number. No property to be removed until settled for.  Generations Catering 
Note: This property belonged to Don and Mary Jean Crain who were longtime residents of Covington. A very nice offering.
JERRY, BRADLEY, and RANDY CRAIN  – OWNERS