Public Auction, Covington – Saturday, July 28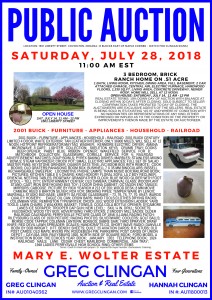 SATURDAY, JULY 28, 2018 
11 AM EST – 1501 Liberty Street, Covington, Indiana
3 BEDROOM, BRICK
RANCH HOME ON .51 ACRE
1 BATH, LIVING ROOM, KITCHEN, DINING AREA, FULL BASEMENT, 2 CAR ATTACHED GARAGE, CENTRAL AIR, ELECTRIC FURNACE, HARDWOOD FLOORS, 1,330 SQ.FT. LIVING AREA, CONCRETE DRIVEWAY. NEWER ROOF. HOME WILL SELL AT 12 NOON.
OPEN HOUSE: SATURDAY, JULY 14,  11 AM – 12 PM
REAL ESTATE TERMS: 10% DOWN DAY OF AUCTION WITH BALANCE AT CLOSING WITHIN 30 DAYS AFTER CLOSING. SOLD SUBJECT TO SELLER CONFIRMATION.TAXES PRORATED TO DAY OF CLOSING. THE AUCTIONEERS ARE EXCLUSIVE AGENTS OF THE SELLERS. REAL ESTATE IS BEING SOLD IN ITS EXISTING "AS IS" AND"WHERE IS" CONDITION WITH NO WARRANTIES OR REPRESENTATIONS OF ANY KIND, EITHER EXPRESSED OR IMPLIED AS TO THE CONDITION OF THE PROPERTY OR IMPROVEMENTS THENON MADE BY THE ESTATE OR AUCTIONEER.
2001 BUICK – FURNITURE – APPLIANCES – HOUSEHOLD – RAILROAD
2001 BUICK – FURNITURE – APPLIANCES – HOUSEHOLD – RAILROAD  2001 BUICK CENTURY LIMITED 4 DOOR, WHITE EXTERIOR, TAN LEATHER INTERIOR, ONLY 36900 MILES, WILL SELL AT 12 NOON; HOTPOINT REFRIGERATOR;MAYTAG  WASHER;   KENMORE ELECTRIC  DRYER;  AMANA   MICROWAVE  & CART;   LIGHTER   COLLECTION;   SKELETON  KEYS;   CRUMB  TRAY; COOKS  BEER OPENER;   PABST   BLUE   RIBBON   OPENER;   WAKEFIELD   SERVICE   FOR   8;   MATCHBOOK   COLLECTION;   GLASSWARE;   CORELLE   SERVICE   FOR   4;   RAILROAD ADVERTISEMENT MATCHES; SOUP BOWLS; PYREX BAKING DISHES; MARBLES; STAINLESS MIXING BOWLS; STEAM VAPORIZER; CROCK POT; SMALL ELECTRIC APPLIANCES; FULL SET OF SALAD MASTER PANS; KEYSTONE GRINDER; QUAKER OATS TINS; JVC BOOM BOX WITH REMOTE;  COOK BOOKS; OLD GRATERS;PANASONIC BOOM BOX; BUSHNELL 7 X 35 MM BINOCULARS; BISSELL RECHARGEABLE SWEEPER;   LOCOMOTIVE PHONE; LAMPS; TRAIN MUSIC BOX;RAILROAD BOOK; PICTURES; KITCHEN TABLE & 4 CHAIRS; KING HICKORY FLORAL SOFA; LA Z BOY RECLINER; ORIENTAL NESTING TABLES; RIDGEWAY GRANDFATHER CLOCK; BLUE WOOD GLIDER WITH FOOT STOOL – TELL CITY; ENTERTAINMENT CENTER; OLD CAMERA; CARNIVAL GLASS; WOODPLANT STAND; CAST IRON GREYHOUND BUS TOY; 2 DOOR CHINA CABINET; OCTAGON END TABLES; MIRRORS; CABOOSE  PICTURE BY RICK YEARICH # 213 OF 250; WOOD DESK; 8 MM MOVIE CAMERA; REED & BARTON SILVER; RCA VCR; SMOKING PIPES; TEMPER WARE BY LENOX; MARSHALL STUDIO BUD BASE; LIBERTY SA FEDGE GLASSWARE – 73, 76, 75, 77, 70, 69,67; WARDS QUALITY HOSIERY;     EAGLE OIL CAN; CROW BARS; HAND TOOLS;CLOTHES DRYING RACKS; COLUMBIAN VISE; REMINGTON TYPEWRITER; CROCK JUG; WOOD EXTENSION LADDER; YARD TOOLS; LAWN CHAIRS; 2 WALKERS; BASKET; TOWELS; COCA COLA BOTTLE OPENER; SYCAMORE LANES ICE SCRAPER; TROOPER CAP GUN; NEW LEVEL;   SKIL ¼ IN. DRILL; SOCKETS; FEEDSACKS; WOOD TOY BOX; ADVERTISING YARD STICKS; 2 SNODDY MILL SACKS; OLDER RAILROAD CALENDARS; PERRYSVILLE PICTURE CLASS OF 1948; ILLIANA RACING PATCH; RILEYSBURG CLASS OF 1930 PICTURE; RACING PHOTOS; SILVERWARE; COOLERS; GOLF BALLS; MORSE CODE TAPPER; COLEMAN LANTERN; BONGOS; SABRE SAW; YARD SPRAYER; DRAW KNIFE; RED DEVIL LAWN SPREADER; SCALES; HANDICRAFTS CO. SHORT WAVE RADIO; DANVILLE BOOK BY BOB WRIGHT;  8 FT. BENCH; SHEETS; QUILT; 25 AVIATION CARDS; R.R. STUBS; OLD POST CARDS; OLD MAPS; MYERS PIN; ROUDEBUSH PIN; PARKERPIN; POST CARDS OF UNION DEPOT – CAYUGA 1909, RILEYSBURG 1920, NORTH SIDE OF SQUARE BOOK;  FORD MODEL A INSTRUCTION BOOK; THE ECHOES YEAR  BOOK;   JANUARY   1931   TELEPHONE BOOK;  1924   RAILROAD   NAILS;   LANE   CEDAR  CHEST; MARLBORO  COMMERCIAL   ASH TRAY;   1948 LADIES PERRYSVILLE HIGH SCHOOL RING; OTHER ITEMS
MARY E. WOLTER ESTATE