Estate Auction on May 15, 2021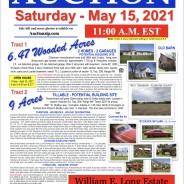 ESTATE AUCTION
LOCATION: 2656 W  Salem Church Road,  Covington, Indiana or 1.5 miles North of Covington on Portland Arch Road, then ½ mile East on Salem Church Road.  Watch for Greg Clingan Auction & Real Estate signs.
SATURDAY, MAY 15, 2021   11:00 am EST
PERSONAL PROPERTY
1972 BUICK SKYLARK – 3 TRACTORS – BACKHOE – 3 LAWN SHEDS – 2 CARPORTS
FURNITURE – HOUSEHOLD – 4 L.P. TANKS – TOOLS
More personal property listing to follow.
Terms: Cash or check with proper I.D required for buyer number. No property to be removed until settled for.
REAL ESTATE
TRACT 1:   2  HOMES  – 2 GARAGES – BARN –  ON 6.47  WOODED ACRES
Troy Township, Fountain County
Possible Building Site!
3 Bedroom manufactured home built 1989, with 2 baths, living room, dining room, gas furnace, central air, approximately  1,742 sq. ft. living area, includes:  2.5   car detached garage, 3.5 car detached garage, 2 story barn with basement.  Home #2:  2650 W Salem Church Road: 2 story 4 bedroom home built circa 1900, with 1 bath, kitchen, family room, laundry room, open porch, partial basement, needs  TLC. Located in portion of section 13, Twp. 20N, Range 9W.
TRACT 2:   9  ACRES
TILLABLE – POTENTIAL BUILDING SITES
2827 W Shelby Lane, Covington, Indiana or 1.25 miles North of Covington on Portland Arch Road to Shelby Lane, then  ½ mile East.  This tract was not farmed in the 2020. Located in portion of section 24, Twp. 20N, Range 9W.
 Predominant soil types: Elston sandy loam & Ockley sandy loam. Located in portion of section 24, Twp. 20N, Range 9W. Taxes: $237.04 annual.   
Real Estate Terms: 10% Down day of auction with balance at closing within 30 days after auction and is non – refundable. Procedure: Individual tracts will be offered and then as a whole. Buyer must have financing arranged prior to auction. Real Estate sold subject to owner confirmation. Taxes: Prorated to day of closing. Possession: Closing. The successful bidder will sign an offer to purchase immediately after the auction. The auctioneers are exclusive agents of the sellers. Announcements day of auction will take precedence over printed material. Merchantable, insured title will be furnished. All real estate is being sold in its existing "As Is" and "Where Is " condition with no warranties or representations of any kind, either expressed or implied as to the condition of the property or improvements made by the Estate or auctioneer. Each potential bidder shall exercise due diligence and is responsible for his or her independent inspection, investigations and inquiries.
Open House: Friday,  Friday April 23, 5 P.M. to 6:30 P.M.
                                                       FURNITURE – HOUSEHOLD – HOLIDAY DECORATIONS 
Furniture & Household: black Nouveau reproduction bedroom dresser; nightstand; chest on chest; TV cabinet; Amish built electric fireplace with remote; end table; cast iron ball & claw footed bathtub with fixtures; 3-sided shower sides enclosure; 54"-bathroom sink unit; new toilet stool; 30 in. x 45 in. dogs playing cards wall hanging; Casio label maker; silver plated tea set; brass fireplace accessories; ; H.P. printer; lighted wall pictures; dishes & silverware; Corelle dishes. New items: 3 rolls Berber carpet: 13′ x 12′, 23′ x 12′, 15′ x 12′; foam carpet pad. Many animated Christmas figures in boxes;  vintage Christmas Santas; Snowmen; Halloween outdoor decor; outdoor Christmas window display house; vintage chrome lady car window jiggler; vintage lady with winds chrome hood ornament; Coco Cola clock; Ma & Pa crazy guy faces; plastic Falls City, Pabst, Strohl's beer signs; many Bernzomatic fire detectors horn alarm  Fd 136; Telemania 57 red Chev. push button tele; wire rim hubcaps; dog statue collection; wood carpenters' box; 35 MPH road sign; one way Chicago Motor Club sign;  Brownie Hawkeye camera; mechanic manual books; 10 pt. mounted deer head; CB radio; Willow Tree statues; tall blue vases; kitchen sink well pump; outdoor iron barn astray; metal Bordon milk crate; United Line Up Shuffle Alley Bowing game; Cornelius wood grain Coca Cola pop machine; iron tea kettle.
                                                                 OUTDOOR & ELECTRIC PARTS 
Metal & wood trellis; plant stands; hose; 2 porch swings; 6 ft. swing; alum. window awnings; concrete blocks; 3 – 12 ft. pipe gates; wood lattice; lawn tools; 3 chain saws; Precise fit 4f ft. lawn roller; steel fence post; 5 L.P. tanks 300 gal., 500 gal., 1,000 gal.; car ramps; metal mower loading ramps; 50 gal. oil drum with hand pump; other metal drums; 4 wheeler sprayer; Angel yard fountain; concrete pedestals; boy drinking outdoor fountain; lady with pitcher fountain; concrete heart shaped bird bath; iron mesh coffee table; 2 concrete horse heads; Grill Care smoker grill; large stack 12″ x 48″ plywood sections; stack  of 75+ 2″ woodwork; vinyl wood trim; Air conditioner units and parts; box of 4″ x 10″ floor registers; 2 air compressors – need work; electric heaters; Popular Mechanic tool box; ceiling lights; well ejector; new circuit breakers; new & used plumbing connectors; sink faucets; Revolv 7 Coleman wall furnaces; 4″ drain pipes; New Honeywell thermostats in boxes; floor jack; hand truck; weed trimmers; hand tools; nuts & bolts; alum. ext. ladders; vinyl porch ceiling & siding; wrenches; 60 ft. 10″ black  field pipe.
                                                               3 TRACTORS  – BACKHOE -PICKUP
Ford S550 backhoe with bucket, cab; Ferguson 30 tractor;  Farmall M tractor; Farmall M tractor with bucket; 4 old rotary mowers; 10 ft. disc; harrow; Craftsman parts mowers; week mower; old electric motors; blades; car dolly; Golden Companion handicap scooter; 2 truck bed tool chests; 5′ chicken feeder; wire rabbit cages; old windowpane glass; scrap wood; coper scrap; other items.
1957 Chevrolet Bel Air Coupe – 71,076 miles
1972 BUICK SKYLARK – 38,132 miles
More pictures available on Auctionzip.com!
Attorney: Robert O. Williams
WILLIAM E. LONG ESTATE