GERALD "SHORTY" & JANICE MEYERS ESTATE AUCTION – AUGUST 5, 2017
Location: 1311 8th Street, Covington, Indiana.  ( Just South of Park Avenue )
ESTATE AUCTION
SATURDAY, AUGUST, 5, 2017
11:00 AM
APPLIANCES – FURNITURE – HOUSEHOLD ITEMS – PATIO
Estate washer & Electric Kenmore dryer; 3 Roseville Clematis es; 2 Hull vases; 1 Rossville snowberry cornucopia; clothes hamper; 2 storage cabinets; assorted towels; freezer; butter churn; break baker; ironing board; step ladder; thermos; couch; loveseat; 2 leather recliners; coffee table; 4 end tables; small table; vases; 2 headboards/footboards; mattress box springs; comfort sets; old dresser; sheet sets; 2 dressers; 2 dresser mirror sets; palm tree; chest; 2 entertainment centers; 2 TVs; chair; roll desk; Large hutch; pots and pans; bake ware sets; silverware sets; coffee pot; crock pots; canister sets; chicken décor/figurines; china hutch; table and chairs; serving cart; Tupperware sets; telephone; barometer; pictures; glasses; bread box; carving knife; TV; kitchen air mixer; 3 tier snack trays; 2 hanging lanterns; misc. kitchen items; toaster; large Crockpot; deep fryer; blender; pancake griddle; several more small appliances; records; VCR; Blue Ray DVD player; typewriter; travel iron; pillows; large assortment of jewelry, CD tapes; VCR tapes; jewelry boxes of all sizes; cowboy collection; 2 book shelves; electric piano; lamps; knitted blanket sets; games; sewing machine; carpet cleaner; vacuum cleaner; iron/boars; hand held carpet cleaner; small ironing board; folding table; standing fan; heater; encyclopedia set; VCR stand; stool; suitcases; small curio with décor; large curio with décor; couch table; 42" TV; TV stand; clock; picture shelf; 3 lamps; fireplace tool set; 4 handmade candle holders; boot match container; surround sound; 2 mirrors; tablet; rugs; wicker basket; sea bird décor; night light; misc. bathroom items; 3 baskets; shelf; 2 stands; clock; curling irons; scale; 10 Gallon crock Robinson bottom; cobalt + blue glass basket; Victorian figurines; blue and white glassware collection; pineapple pattern cobalt blue vases; cranberry glass basket; other items.
CUB CADET LAWN TRACTOR – LAWN TOOLS –  DECORATIONS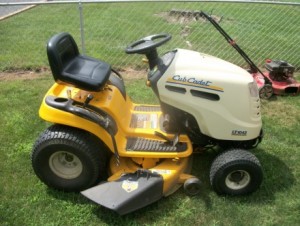 Cub Cadet LT 1042 1000 Series 42" Hydrostatic Drive lawn tractor with 280 hours – nice; lawn sweeper; spreader; lawn rakes; flower garden fencing; gas can; kerosene can; push mower; air compressor;  box of décor; cushion bin; new cushions; 5 piece patio set with cushions; 2 patio chairs with cushions; chime and small wire fencing; small table; misc. nuts/screws stage bins; saws; drill/battery, electric chain saw; snow blower; leaf blower; electric pressure washer; shovel; rake; snow shovel; took boxes with assorted tools; socket sets; level; square; hammers; wrench sets; sprayer; hand spreader; drywall tool set; paint rollers; ladders; weed eater; hand sander; misc tools; screw drivers; patio chairs; Christmas lights and décor; 2 pictures; Easter décor; Thanksgiving, Halloween, and Christmas décor; misc tools and household items, headboard, shop vac.
Terms: Cash or check with proper I.D. required for buyer number. No property to be removed until settled for.
Attorney: Robert O. Williams   Note: Many well cared for items.
GERALD "SHORTY" & JANICE MYERS ESTATE