J.D. Murphy Heirs Auction | Saturday, October 14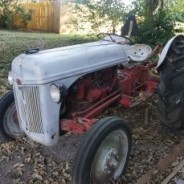 Location:  704 W  Aylesworth Road , Veedersburg, Indiana

or 2 miles East of Covington on Stone Bluff Road, then 2.5 miles North on C.R. 400 W, then  2.5 miles East on C.R. 350 N, then 1.5 miles North on C.R. 160 W, then 4/10 mile West on Aylesworth Road, or  2.5 miles S.E. of Portland Arch.   Watch for Clingan signs.
SATURDAY, OCTOBER  14, 2017 11 A.M.
ANTIQUES – COLLECTIBLES – FURNITURE –  2 OLD BARBER CHAIRS – COINS  – SWORDS
Secretary desk with rope legs; curio cabinet; dresser;  grandfather clock; cigar table ; 2 wood barrels; wicker furniture;  3 Men in Kilts whiskey decanter; 4 brass spittoons; spittoons;    Gone With the wind poster; Norman Rockwell frame print; guitars; Asian teapots; oil lamps & globes; smiling Budda; flasks; Christmas lights;  desk; buffet ; 2 wooden wheel chairs; kindling rack; magazine rack; 2 old barber chairs with no back;  dolphin ceramic figurines; medicine cabinet; shot glass display case with glasses; 3 Steamer trunks; corner display cabinet; mirrored medicine cabinet;  4 Old suitcases; 24   canes; lot of candle holders; electric Jack-O-Lantern; wine glasses;  canning jars; colanders; kitchen gadgets; furry macramé dreamcatcher; Leather Dopp kit; doctors satchel; wooden toy guns; Butter churn; Pewter mugs; Norman Rockwell "Sea Scenes"cups; Cast iron Dutch oven; 2  kettles; old painted milk can;   painted 2' Disney characters;  2 antique barber chair bases; metal bed frame; 3-4 &5 tier metal shelves; Chinese vases; photo frames; wall candle holders; Wooden ivory boxes; Glenlivet clock; newer rotary phone; look old; folding end table; kettle handles; mantel clocks; grandfather clock; Magnavox stereo console; Gargoyle door knocker; cigar table with drawer; 2 refrigerators;  vintage style record plyer with CD tape; vintage radio; pool cues, balls and triangle; "Gone with the Wind " poster on planks; Norman Rockwell family tree framed print; toys; guitars; unopened mini-blinds; ergonomic chair; Tripod; mirror with shells; boxes marked "garage sale"; 2 Rucksacks; green leather chaise lounge chair;  1930's sewing machine; iron candelabra; wooden bar stool; old ironing board; foot Stool; antique cookie press; large and small ceramic crocks; Electrolux vacuum; humpback trunks; beer steins; Whiskey decanters; DVD's; lamps; Iron bed frame; wooden cot frame; artwork; fiddles; several  banjos;  twin bed; Instrument cases;  punched tin lanterns; wicker furniture; wicker baskets; wicker figurines; plant stands; end tables; cups, bowls & glasses; curio cabinet; secretary; kids toys; baskets; antique metal cookie press; crocks & jug; vacuum;  Laurel & Hardy wall art; old fashioned birthing chair; metal gargoyle door knocker;  end tables; vintage radio   dresser; wooden bed frame(twin);  metal filing cabinets; Windsor back chair; 4 wooden rocking chairs; 2 brass ash buckets; Christmas ornaments; La Z Boy recliners;  foreign coins; 1892 Morgan dime; few  1976 Kennedy halves;  40 Barber dimes from 1893 to 1908; 1897 Barber O; 8  – 2  dollar bills; wrapping paper; roll top desk; old iron bed frame;  ladder back chairs; Old Wingate Marshall Badge; and other items.
FORD TRACTOR – FORD PICKUP – GUNS – KNIVES – UTILITY TRAILER – OUTDOOR
1992 Ford Ranger extended cab with topper, and new rear tires; 1944 Ford 2 N tractor with rare Sherman Hi Lo transmission; 1997 4' x 8' utility trailer; Vintage Daisy .177 cal bb gun pistol; Regent .22 cal 8 shot revolver; Richland Arms Co. Texas New Army .44 cal black powder revolver; Connecticut Valley Arms .44 cal black powder revolver,  Colt's pat- Sept. 10, 1850 ; Eig Colt Navy 1851 replica .36 cal black power revolver;  Hawkan .50 cal black powder rifle – Note: 3 black powder revolvers are replica models; 42" plow with mount; 2 riding mowers; push mower; 66" glass globe lightning rod; 1 set Jeep rims 15" to 2 15 7 5 15 Pistols; musket balls; revolvers; rifles; swords; 1906 Springfield bayonet;  old hay hooks; wagon wheels on axle; garden cultivator; filed cultivator; regular single cultivator with wheel;  Weed Easter 17"  tiller;  triple , single & double tree; one set smaller wagon wheels;  beer signs; old milk can; 2 kettles; easy lift steel truck made in Michigan; axe handles; woven wire 3' rolled fencing;  outdoor planter; 2 fire place sets;  large Coleman cooler;  old hand well pump; Whilaway fishing rod; 2 wooden handled limb loppers;   anchor; seed spreader; car buffer;  gun rack;  B & D electric lawn edger; gas grill; dog house;   2 Weber grills; Ford Ranger bed liner; full size truck tool box; scrap iron; other items.
Terms: Cash or check with proper I.D. required for buyer number. Generations Catering. All federal and state firearm laws will be followed with strict adherence. 
J.D. MURPHY HEIRS
Auction Conducted By:
GREG CLINGAN
Auction & Real Estate 
404 Liberty Street, Covington Indiana 47932
(765) 793-7315 
www.gregclingan.com
@gregclingan (Facebook)
@gregclinganauctionrealestate (Instagram)