SOLD AT AUCTION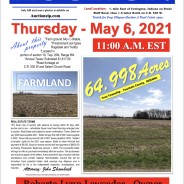 LAND AUCTION
Land Location:  ½ mile East of Covington, Indiana on Stone Bluff Road, then 1.5 miles North on C.R. 530 W.   Clingan Auction & Real Estate signs.                           
Day of Auction Location: The Beef House Restaurant – Oak Room                                                                                                              16501 N. S.R. 63.   NW corner of S.R. 63 & I 74. Covington, Indiana.  
Saturday – May 6, 2021   –   11:00 A.M. EST
64.998 acres
*Farm ground 64(+/-) tillable.
*Predominant soil types
Ragsdale and Yeddo.
*Located in  portion of section 19, Twp. 20N, Range 8W.                                                                                                                                   *Annual Taxes: Estimated $1,617.80                                                                                                                                                                       *Road frontage on C.R. 530 W and Salem Church Road.
Real Estate Terms:  10% Down day of auction with balance at closing within 30 days after auction and is non – refundable. Buyer must have financing arranged prior to auction. Real Estate sold subject to owner confirmation. Taxes: Seller will pay 2020 taxes payable 2021.  Seller will pay first-half of 2021 taxes payable in 2022.  Buyer will pay second-half of 2021 taxes payable in 2022.  Subject to tenants' rights for the 2021 crop season. Seller to retain first-half rent payment of $6,500. Buyer to receive second-half rent payment of $6500.00 at closing. Possession: Beginning January 1, 2022. The successful bidder will sign an offer to purchase immediately after the auction. The auctioneers are exclusive agents of the sellers. Announcement's day of auction will take precedence over printed material. Merchantable, insured title will be furnished. Each potential bidder shall exercise due diligence and is responsible for his or her independent inspection, investigations, and inquiries.
Attorney: John Shambach
Announcement's day of sale take precedence over printed matter.
Roberta Lynn Lewsader – Owner