LARGE ESTATE AUCTION – Saturday July 27, 2019 – 11 AM EST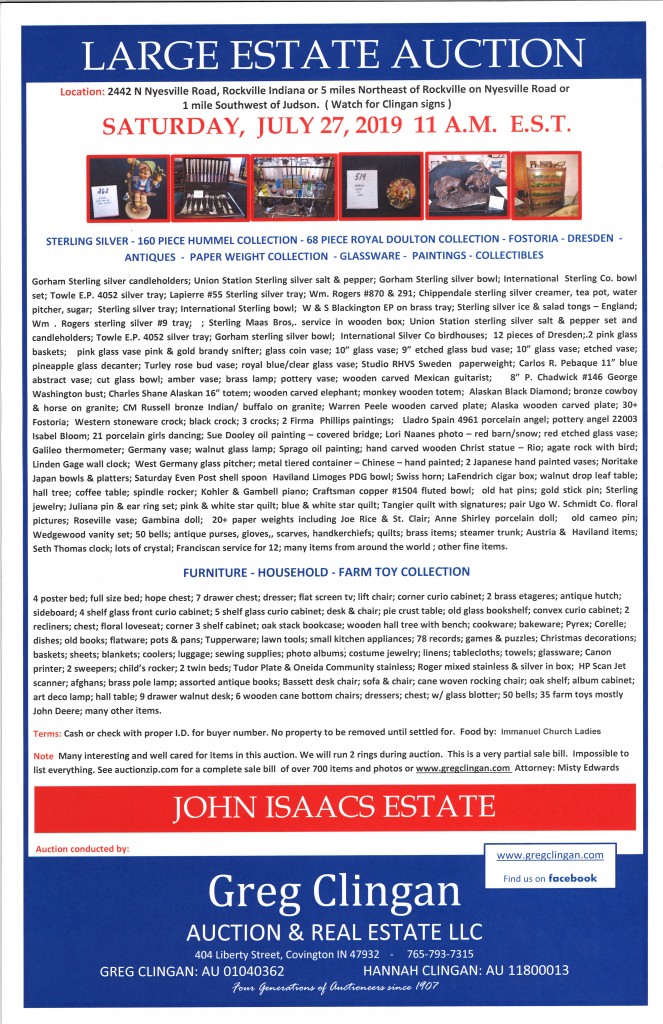 Location: 2442 N Nyesville Road, Rockville Indiana or 5 miles Northeast of Rockville on Nyesville Road or  1 mile Southwest of Judson. ( Watch for Clingan signs )
LARGE ESTATE AUCTION  Saturday July 27, 2019   11 AM EST
STERLING SILVER – 160 PIECE HUMMEL COLLECTION – 68 PIECE ROYAL DOULTON COLLECTION – FOSTORIA – DRESDEN – ANTIQUES – PAPER WEIGHT COLLECTION – GLASSWARE – PAINTINGS – COLLECTIBLES
Gorham Sterling silver candleholders; Union Station Sterling silver salt & pepper; Gorham Sterling silver bowl; International Sterling Co. bowl set; Towle E.P. 4052 silver tray; Lapierre #55 Sterling silver tray; Wm. Rogers #870 & 291; Chippendale sterling silver creamer, tea pot, water pitcher, sugar; Sterling silver tray; International Sterling bowl; W & S Blackington EP on brass tray; Sterling silver ice & salad tongs – England; Wm . Rogers sterling silver #9 tray; ; Sterling Maas Bros,. service in wooden box; Union Station sterling silver salt & pepper set and candleholders; Towle E.P. 4052 silver tray; Gorham sterling silver bowl; International Silver Co birdhouses; 12 pieces of Dresden;.2 pink glass baskets;   pink glass vase pink & gold brandy snifter; glass coin vase; 10" glass vase; 9" etched glass bud vase; 10" glass vase; etched vase; pineapple glass decanter; Turley rose bud vase; royal blue/clear glass vase; Studio RHVS Sweden paperweight; Carlos R. Pebaque 11" blue abstract vase; cut glass bowl; amber vase; brass lamp; pottery vase; wooden carved Mexican guitarist;    8" P. Chadwick #146 George Washington bust; Charles Shane Alaskan 16" totem; wooden carved elephant; monkey wooden totem; Alaskan Black Diamond; bronze cowboy & horse on granite; CM Russell bronze Indian/ buffalo on granite; Warren Peele wooden carved plate; Alaska wooden carved plate; 30+ Fostoria; Western stoneware crock; black crock; 3 crocks; 2 Firma Phillips paintings; Lladro Spain 4961 porcelain angel; pottery angel 22003 Isabel Bloom; 21 porcelain girls dancing; Sue Dooley oil painting – covered bridge; Lori Naanes photo – red barn/snow; red etched glass vase; Galileo thermometer; Germany vase; walnut glass lamp; Sprago oil painting; hand carved wooden Christ statue – Rio; agate rock with bird; Linden Gage wall clock; West Germany glass pitcher; metal tiered container – Chinese – hand painted; 2 Japanese hand painted vases; Noritake Japan bowls & platters; Saturday Even Post shell spoon Haviland Limoges PDG bowl; Swiss horn; LaFendrich cigar box; walnut drop leaf table; hall tree; coffee table; spindle rocker; Kohler & Gambell piano; Craftsman copper #1504 fluted bowl; old hat pins; gold stick pin; Sterling jewelry; Juliana pin & ear ring set; pink & white star quilt; blue & white star quilt; Tangier quilt with signatures; pair Ugo W. Schmidt Co. floral pictures; Roseville vase; Gambina doll; 20+ paper weights including Joe Rice & St. Clair; Anne Shirley porcelain doll; old cameo pin; Wedgewood vanity set; 50 bells; antique purses, gloves,, scarves, handkerchiefs; quilts; brass items; steamer trunk; Austria & Haviland items; Seth Thomas clock; lots of crystal; Franciscan service for 12; many items from around the world ; other fine items.
FURNITURE – HOUSEHOLD – FARM TOY COLLECTION
GE Front Load Washer and Dryer; other washer and dryer; 4 poster bed; full size bed; hope chest; 7 drawer chest; dresser; flat screen tv; lift chair; corner curio cabinet; 2 brass etageres; antique hutch; sideboard; 4 shelf glass front curio cabinet; 5 shelf glass curio cabinet; desk & chair; pie crust table; old glass bookshelf; convex curio cabinet; 2 recliners; chest; floral loveseat; corner 3 shelf cabinet; oak stack bookcase; wooden hall tree with bench; cookware; bakeware; Pyrex; Corelle; dishes; old books; flatware; pots & pans; Tupperware; lawn tools; small kitchen appliances; 78 records; games & puzzles; Christmas decorations; baskets; sheets; blankets; coolers; luggage; sewing supplies; photo albums; costume jewelry; linens; tablecloths; towels; glassware; Canon printer; 2 sweepers; child's rocker; 2 twin beds; Tudor Plate & Oneida Community stainless; Roger mixed stainless & silver in box; HP Scan Jet scanner; afghans; brass pole lamp; assorted antique books; Bassett desk chair; sofa & chair; cane woven rocking chair; oak shelf; album cabinet; art deco lamp; hall table; 9 drawer walnut desk; 6 wooden cane bottom chairs; dressers; chest; w/ glass blotter; 50 bells; 35 farm toys mostly John Deere; many other items.
Terms: Cash or check with proper I.D. for buyer number. No property to be removed until settled for. Food by:  Immanuel Church Ladies
Note Many interesting and well cared for items in this auction. We will run 2 rings during auction. This is a very partial sale bill. Impossible to list everything. See auctionzip.com for a complete sale bill of over 700 items and photos or www.gregclingan.com Attorney: Misty Edwards