November 4, 2018 – 12 PM – Public Auction, Rosedale, Indiana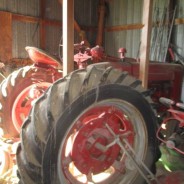 Quality Appliances – Furniture – Household – Antiques – Collectibles
TRACTORS – ZERO TURN MOWER – MODEL A PARTS – GRAVITY GAS PUMP – TOOLS – BACKHOE ATTACHMENT
WHIRLPOOL DUET FRONT LOADING WASHER & ELECTRIC DRYER; FRIGIDAIRE STAINLESS REFRIGERATOR & ELECTRIC RANGE; LA-Z-BOY RECLINER; 3-PIECE BEDROOM SUITE; YAMAHA ORGAN; END TABLES; VICTORIAN LOVE SEAT; OAK 3 DRAWER CHEST; OAK WASH STAND; MILL OIL PAINTING; SOFA; CANE BOTTOM CHAIRS; FULL SIZE BED; ROCKERS; BEDDING; DISHES; POTS & PANS; PHALTZGRAFF SERVICE FOR 8; CORNINGWARE; POCKET KNIVES; KENMORE MICROWAVE; PAPER WEIGHTS; EDWARD CLOCK; 3-PIECE WICKER PATIO SET; PARKE COUNTY IN THE WORLD WAR 1920; MONTGOMERY WARD TRAILER; COAL BUCKET; CAST IRON PLANTERS; SAMSUNG 32" T.V. 2010; 3 CUSHION STACK ELITE SAFE WITH COMBINATION; ROLL TOP DESK; CAMERAS; STEAMER TRUNK; BINOCULARS; MILK CAN; HOLIDAY DÉCOR; DISHES; DOLLS; DOLL HOUSE; FILING CABINET; CHILDREN'S WOOD CHAIRS; OLD TRICYCLES; AIR CONDITIONER; GLASSWARE; MARBLE BASE LAMP; CANNING JARS; SILVERWARE; DINING TABLE & 6 CHAIRS; UTILITY HEATERS; LAMPS; BIRD BATH; CD'S; BENCH; MANY OTHER ITEMS FARMALL 806 DIESEL TRACTOR, SERIAL # 10558, NOT RUNNING, W.F.; IHC 340 TRACTOR W/ 7,926 HOURS, 540 PTO, W/ IHC 2000 LOADER, NOT RUNNING; FARMALL M TRACTOR, SERIAL # FBK 287666X1- NOT RUNNING; LONG BACKHOE ATTACHMENT; MZ MAGNUM BAD BOY ZERO TURN MOWER WITH 214 HOURS, 54" CUT, 725 CC, KOHLER 7000 SERIES MOTOR; YARD MACHINE TILLER; SOUTHLAND GAS TRIMMER; SHOP VAC; GRAVITY GAS PUMP; C CLAMPS ; JACK; GRILL; CRAFTSMAN TABLE SAW; PRO TECH SAW; BATTERY CHARGER; PK SPRAYER; BELT SANDER; RADIO FLYER WAGON; 2 TON CHERRY PICKER; LAWN TOOLS; 3 GRAIN BINS TO BE REMOVED ; SPRAY TANK ON WHEELS; WOODS 8 FT. GRADER BLADE; OLD BUSH HOG MOWER; SICKLE MOWER; 4 OLD WOODEN SLEDS; TRACTOR TIRES; GARBAGE CANS; WASH TUBS; FENCING; PLATFORM SCALES; WOOD LADDERS; 2 OLD FIREPLACE MANTELS; SCRAP IRON; WOOD TOOL BOX; BIKE; COME ALONG; AIR COMPRESSOR; VISES; CAR JACKS; GALVANIZED OIL CAN; SAND BLASTING CABINET; LAWN ROLLER; WELL HAND PUMP; TV ANTENNA; ROUGH CUT LUMBER; 2 GARAGE DOOR OPENERS; BOUNTY HUNTER METAL DETECTOR; 2 PARTS MOWERS; LAWN CART; GRILLS TO MODEL A; HOMELITE AC3000 GENERATOR; ECHO C352 CHAINSAW, BIRD HOUSES, HOSE REEL; CRAFTSMAN ROUTER; POWERLINE BB GUN; REMINGTON LEAF BLOWER; LICENSE PLATES; DRIVE INN MOVIE SPEAKER; WOOD PLANES; JACKS; AIR HOSES; ANVILS; OLD JACKS; GREASE GUNS; GRINDERS; SQUIRREL CAGE BLOWER; WOODMASTER PLANER; SNAP ON BOX END 1 1/16 & 15/16; FIRE AXE; KITTY CAT YOUTH SNOWMOBILE; 2 SMALL BLOCK CHEVY ENGINES; SHORT BLOCK MODEL A; AXLE TUBES; COMPLETE MODEL A CRANK & PAN ASSEMBLY; CRAFTSMAN SCROLL SAW; BATTERY CHARGERS; B&D ROUTER; 3 CHEVROLET CORVAIR HUBCAPS; MODEL A RIMS; PARTS FOR 55 & 56 CHEVROLET; MODEL A PARTS; NEW MODEL A HOOD; IMPALA PARTS; 4 X CAMARO SS WHEELS; MANY OTHER ITEMS.
Tractors and Mowers to sell at 2 PM, may run 2 rings during auction.
Auction will be held at the former John W. Fisher Farm.
Food by Dogg Pound BBQ

 
Melissa Boyd, Owner