PUBLIC AUCTION: Saturday – October 8, 2022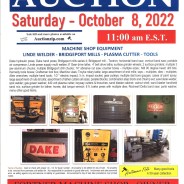 PUBLIC AUCTION
Saturday – October 8, 2022
11:00 am EDT
LOCATION:  13557 N.W. Avenue, Perrysville, Indiana, or 2.5 miles N.W. of Perrysville, Indiana on S.R. 32 to C.R. 200 W, then 1.5 miles North, then ¼ mile East on C.R. 1350 N to Gessie, Indiana or 7 miles S.W. of Danville, Illinois on Perrysville Road – S.R. 32 to C.R. 200, then 1.5 miles North, then ¼ mile East on C.R. 1350 to Gessie, Indiana
MACHINE SHOP EQUIPMENT
LINDE WELDER – BRIDGEPORT MILLS – PLASMA CUTTER – TOOLS
ake hydraulic press; Dake hand press; Bridgeport mills series 4; Bridgeport mill – Textron; horizontal band saw; vertical band saw; portable air compressor; Linde power supply multi welder; 8' Gear drive lathe;  4' belt drive lathe; surface grinder wheels; 2 surface grinders; multiple 3 jaw aluminum chucks; multiple Bridgeport drill chucks; 14" abrasive cut saw; counter bores – multiple sizes;  Mill 90 degree head; drill bits; Kennedy tools boxes; Craftsman tool box; Machine vises; Troyke rotary table; large assortment of end mills; taps – multiples; dies – multiples; Allen wrenches; multiple hand tools;  1/2 " electric impact; ½ in. impact socket; gear pulleys; multiple dial bore gauges; cases of paint spray; large assortment of nuts & bolts; assortment of lather cutters all sizes; parallel blocks; combination step block and chlamp set; saw blade welder; spot welder; gas gower washer; 440 volt plasma cutter; keyway cutters & brouches; sand blaster cabinet- walnut shell; sand blaster handheld sand mix; surface grinder for lather; hones; dial torque wrench; 6 ft. brake press with multiple dies; Rockwell Delta band saw; parts washer;  many other good items.
Terms of Auction:  Cash or check with proper I.D., I.D. for buyer number.  All property to be settled for day of sale.   No property to be removed from premises until settled for.  Not responsible for accidents or goods after sold.  Auctioneers and sale personnel work as selling agents only and assume no liability or guarantees.  Announcement's day of sale take precedence over printed matter.
Auctioneer Note:  Many good tools. A 50-year collection.
More pictures and sale bill on Auctonzip.com. Auctioneer ID #1983.
If you have any questions or need further information regarding this Auction, please stop by our office downtown Covington, call Greg at 765-793-7315 or text 765-585-8418.
FORTNER MACHINE SHOP – OWNER