PUBLIC AUCTION January 21, 2023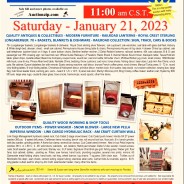 PUBLIC AUCTION
Saturday – January 21, 2023
11:00 am CST
Auction Location: 3821 N Vermilion Street, Danville, Illinois. (Inside of the heated Rodman Business Center) North end of Danville across from Ridgeview Baptist Church. Watch for Greg Clingan Auction & Real Estate signs.
QUALITY ANTIQUES & COLLECTIBLES – MODERN FURNITURE – RAILROAD LANTERNS – ROYAL CREST STERLING – LONGABERGER: 70 + BASKETS, BLANKETS & DISHWARE – RAILROAD COLLECTION: SIGN, TRACK, CARS & BOOKS
70+ Longaberger baskets; Longaberger blankets & dishware;  Royal Crest sterling silver flatware;  oak cupboard; oak wardrobe; oak table with glass ball feet; Hickory & White sleigh bed; dresser; chest;  small oak cabinet; Pennsylvania House dining table & chairs; Pennsylvania House roll top desk; 4 drawer China top cabinet; oak wall telephone; butcher block on 4 legs; 6 cane bottom chairs; Berkline leather recliner; 2 Delta Redbird lanterns; railroad lanterns; 404 cast caboose; B & O cast passenger car; RR crossing sign; rail road train set; Official Guide Railways; LP heaters; Radio Shack 3 channel Stereo Sound mixer; blackjack table; Texas Hold'em table; poker chips; roulette wheel; Beard Ice Company coupon book; sound bar; cast iron kettle; #4 butter churn; #5 Blue Ribbon jug crock; small crocks; 1950 Borden milk truck; crow tin toy; Prince Albert end table; Noritake China; bedding; throw cushions; sad irons; horse shoes; fishing décor; laser stars; Lady Ann fine China; crock pots; file cabinet; Dyson bladeless fan with remote; Soato sewing machine; wall décor; bronze French coffee press; wind chimes; Manual Tortia press; 5 – 72 in. round vinyl folding tables; 8 vinyl folding tables; Christmas & Halloween décor; primitive décor; mantel clock; fruit scales; step stools  nut cracker collection; sewing box; large flag; Cub Scout leader book; canning jars; Lami – beam 9 ½ ft. x 14 ft.; 6 panel oak door; Marilyn Monroe print; Bing Crosby coffee maker; leather coat; Hyster toy 800 lift truck; large area rugs; crystal & clear glass; blue crocks; harmonicas; wood spools; other fine items.
QUALITY WOOD WORKING & SHOP TOOLS – OUTDOOR ITEMS – POWER WASHER – SNOW BLOWER – LARGE NEW PELLA IMPERVIA WINDOW – LINK CARGO HYDRAULIC RACK – AM CRAFT CURTAIN WALL  
Link Cargo Management hydraulic casket rack; Cub Cadet 2 stage snow blower; Cub Cadet push mower; Honda GX 27 power washer 300 psi;   5 speed drill press; Craftsman items including: bench vise, roll around tool box, floor jack, 6 in. bench grinder, belt disc sander, grinding center; A frame bar clamp; several bar clamps; Cub Cadet weed trimmer;  New in box Pella Impervia  window: 99 ½  in. x 59 ½ ; 3 – 36" solid doors; cabinets;   ext. ladders; Harbil paint shaker; Delta 12 disc sander;  boxed screws; nails; Scott seeder; gas cans; yard tools; Stanley vac; 3 LP tanks; Signature Char Broil gas grill; fishing poles; Weber grill; floor fans; tool cabinet; dollies;  painting ex. Poles; saw horses; hand tools; plumbing supplies; several nice prints; mirrors; 60 Samsonite metal folding chairs; hand tools; nail keg; wheelbarrow; log chains; T squares; Stihl chain saw;   Trollies out of Monticello fire dept.; lawn chairs; cement siding copper tubing; stainless steel carts; Carhart bibs & coveralls; approx.  60 ft. long plastic curtain wall for shop by Am Craft; salamander heater; many other fine items.
Terms of Auction:  Cash or check with proper I.D., I.D. for buyer number.  All property to be settled for day of sale.   No property to be removed from premises until settled for.  Not responsible for accidents or goods after sold.  Auctioneers and sale personnel work as selling agents only and assume no liability or guarantees. Announcement's day of sale take precedence over printed matter.
Auctioneer Note: This is a top-quality auction with many interesting items. Steve & Susan are long time Danville residents who are moving to Florida.
Steve & Susan Rodman – Owners