PUBLIC AUCTION – October 12, 2019 – 11am – Covington, Indiana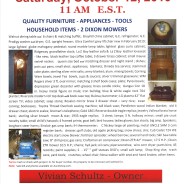 Saturday, October 12, 2019 
 Location: 12740 S Maple Road, Covington, Indiana. Take I-74 Exit 4 North on S.R. 63 to Maple Road. North of Beef House Restaurant. ( Watch for Clingan signs )
11 AM E.S.T.
QUALITY FURNITURE – APPLIANCES – TOOLS HOUSEHOLD ITEMS – 2 DIXON MOWERS
Walnut dining table and 6 chairs & matching buffet; Broyhill china cabinet; G.E. refrigerator; G.E. Prodigy washer and dryer; G.E. upright freezer; Ultra Comfort grey lift chair new in February 2019; large lighted globe mahogany pedestal; round marble lamp table; lighted glass curio cabinet; Ridgeway grandfather clock; La Z Boy leather sofa & La Z Boy leather loveseat – like new; black leather top coffee table; 3 drawer brass cabinet; small mauve swivel rocker;   queen size bed and matching dresser and night stand ; dishes; pots and pans; small elect. appliances; blankets; Onieda tea service; stemmed cake plate; sterling silver mini salts; army blanket; alum. mixing bowls; Corning Ware bowls; Jewel Tea bowls, cups & saucers; silver trimmed glassware; WM Rogers silver 3 ft. oval mirror; matching 3 shelf book cases; plate; Pyrex bowls; depression green decanter with glasses; brass candle sticks; Gangus Con 18 in. heavy metal figure on mule; iron bulldog; blue & white eagle rock 704 planter; Riverside modern roll top desk with book case top; Bulova; barometer; LG plasma 42" flat screen TV; video cabinet; soap stone; Rosalco mirror brass 3 drawer chest – very nice; swan carving; bookcases; Toyota Thread Overlock sewing machine; tall black vase; Pendleton wood Indian blanket; old 4 drawer chest; electric scales; lineman's telephone; Gold 1861 Reverse double eagle replica; jewelry Vallecal brass horse bank; sterling silver broach moon & star; 1933 eagle replica;   3 chest; lamps; 3 ft. hallway mirror; small pie crust novelty table; small child's hassock; 4 framed prints; goat bell; bird houses; ladies gloves; bar stools; big amp. Speakers; longhorn steer horns; Sinclair gas ump bank; IH thermometer;   C Nickey large oil painting; metal UNCLE SAM 3 coin register bank;   dresser; golf clubs; old apple picking bag; snow shoes; skis; Cub Cadet 724 WE electric start snow blower; fertilizer spreader; wheel barrow; several hand tools; Skil Saw table saw; 8" drill press; gas cans; Craftsman air compressor; Dixon ZTR 42" mower, 17.5 H.P.; Dixon ZTR mower 10.5 H.P.; chains; hyd.jack; oil cans; pipe wrenches; wire corn dryer; parts bins; 45 records; paint supplies; 2 – 15" " golf statues DVD's; small salt lamp; Shop King vise; trash cans; yard tools;   crutches; wheel chair; Nova walker with seat and hand brakes; other items.
Terms: Cash or check with proper I.D. for buyer number. No property to be removed until settled for.
Note: Sale bill and photos available on Auctionzip.com.
Vivian Schultz – Owner