PUBLIC AUCTION – Saturday – April 23, 2022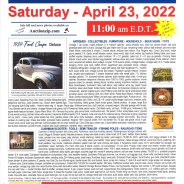 Saturday – April 23, 2022  at  11:00 am EDT   
Location:  1981 E River Road, Attica, Indiana or 3 miles Northeast of Attica on River Road or 3 miles North of S.R. 28 on Independence Road.(Riverside)
Car will sell at 12 Noon EDT
1939 FORD COUPE DELUXE: 350 7 R4 transmission, maroon interior, in running condition, good tires, Will sell at 12 Noon. Good condition.
ANTIQUES – COLLECTIBLES – FURNITURE – HOUSEHOLD – BEER SIGNS – TOYS
Vintage 7 Up cooler; maple dresser; 6  ft. kitchen cabinet;   wood whiskey box; cast iron canner boiler; oak oval pedestal table with 6 chairs; Savage #22 gas heater with 50 gal. rendering kettle; walnut wall shelves; old mirror with brass frame; card table & chairs;  2 swivel stools; antique oak icebox;  Roy Rogers tray; Coca Cola clock; metal picnic basket; 5 ft. Santa; small Mission rocker; dress mold; high chair; wicker top bamboo folding table; pool cues; stuffed coyote; fireplace irons; patio furniture; 10' x 12' gazebo; patio bar; 9' x 9' pop up gazebo; Corning Ware dishes; kraut cutter; wire chicken egg baskets; antique stove top oven; modern curved glass China cabinet;  Dutch oven; several iron skillets; barn pulleys; Coyner 1914 reunion photo; vintage toaster; vintage hats; W.C. Fields statue; hanging mirror coat rack; buffet mirror; apartment size porcelain stove; vintage Frigidaire refrigerator; vintage bird  cage with stand; oak high headboard ¾;  modern barn wood shelf unit; vintage turned bed stead; Frigidaire upright freezer; mission oak  double slat headboard; 7 drawer kneehole desk with metal pulls; 7 ft. kitchen storage cabinet; 7 ft. louvered kitchen cabinet; black leather desk chair; 6 hole gun cabinet; Brookston telephone directory from 1957 to 1962; gorilla costume; movie popcorn stand on wheels; sewing items; brother sewing machine; buttons; jewelry; Blue Graniteware; Sunbeam Face wall décor; Italy leather wine jug; paper towel machine; steer skull head; Indian items; head dress; All American pressure canner; croquet set;  electric roaster oven; USA Pottery crock with lid; red & white black white porcelain pans; Jos Oblong USA iron; Beer items: Pabst Blue Ribbon, Heillman Old Style, Schlitz hanging light, Miller Lite lane sign; gas student light; Purdue clock;   fish trophy case; Sparkling Pure Old  Style; Schilitz Milwaukee light;   Kendall grease can; Astro Line CB; 4 ft. cedar carved eagle; sad irons; dresser pulls; telephone wall box; Jack Daniels rug ; Busch beer lighted sign;  Toys including: Stella guitar, black horse guitar, Barbie clothes   & cases, large Bud Dry hanging light & Big bottle;   Hamms beer keg  &  tapper; Pepsi sign; Walmart semi box, doll furniture, covered wagon, Monster garage with boxes, Tony Stewart semis and others; vintage Mouse hole game, kid's Powertrac Mate pedal tractor  Old Maid cards, old toys, 15 BB guns, Halloween, Big apple water feature fountain, Super Mario Bros. Wii, Pennzoil toy pump, gas pump bank, construction set , life jacket; X Box, Easy Bake oven)  granite 6 hole wood burning  kitchen stove with warmer; Keystone 8 MM projector; R.R. heaters; oval one hole R.R. caboose stove; Wisconsin engine; assorted old car parts – many rusty; wood spoke tire rims; garden plows; milk cans; Kirby sweeper;  pitcher pump; sausage grinder; lard press;   Boy Scout canteen & cooking pan; brass tea kettle; porcelain baby washtub; Wagner 1891 original skillet; R.R. red lantern flu; 10 gal. salt glaze crock; 8 gal. Crown crock crock; cider jug with bail; Carnival glass hen on nest; cracker jar; Coca Cola sign; cream can; Cloud walker exerciser; matchbox collection; belt buckle collection; pocket knives; cracker jack prize collection; marbles; keys; valentines
CUSHMAN SCOOTER – TOOLS – SEMI TRAILER – FISHING POLES – RAILROAD ITEMS
Cushman 3-wheel scooter with dump bed; Performax new blue locking cabinet; Westinghouse storage cabinet with clock; Briggs & Stratton parts; fireplace screens; sheep skin seat covers; chain hoist; 20 ft. alum. ladder; Ryobi battery tools; painted one man saws; pipe clamps; metal shelving; metal log racks; yard wagon; 10,000 lb. hitch; yard tools; iron buggy wheels; 2 dr. file cabinet; bike parts; l. p. cylinders; 6' x 7' vinyl utility shed; pool ladder; Intex weed machine; metal storage cabinet; wood tool trunk; watering can; boat paddles; hay hooks; California Western plastic train set; side chrome tail pipes; 3 Keystone center caps; 40 ft. semi-trailer for storage; car windshield;  axes; hatchets; Pro Tech mitre saw & stand; chains;  air compressor; 3.5 ton jack; Poulan chain saws and others; socket sets; pipe wrenches; sledge hammers; Craftsman tools; bee smoker; candlestick mike; 100 ft. tape measure; small hand tool boxes; bench grinder; lot & lots of hand tools; Craftsman utility lights; gas edger; squirrel cage fan; model A steering column; old car seat; license plates; 75,000 b.t.u. portable propane heater; 8 ft. work table; Campbell Hausfeld air compressor; elec. wire weather heads; Southland Field gas trimmer; car mirrors; car luggage rack; draw knife; kerosene lamps; Value Power 65 battery; enclosed Sportsman trailer; welding rods; 50+ fishing poles; steel traps; Konibear traps; lawn jarts; Schosser Flyer wagon; hand trucks; gun rack; shepherd hooks; Sears lantern & other lanterns; 5" geode; iron Erie City Iron Works signs; tackle boxes full; coal bucket; tarps; scrap iron; heavy 4"  slab 3-6 work bench; large angle iron storage rack; 1 bottom plow; Exide battery charger; portable air compressor; Clarke MIG 130 EN fan cooded welder; Skil saw; Craftsman socket sets; wrench sets; screw  drivers; old Lincoln 225 amp welder; vintage log cabin iron wood burner stove with decoration sides; Maxant Chicago Banner Master Press; running boards; Wagner twin stroke ½ HP paint sprayer; storage tire rack with tires;  J model Pontiac dash & shifter; whiskey barrel; 2 gal. copper bucket; cast iron bell; copper/brass fire extinguishers; Deitz lanterns; U.S. military gas can; military tent with pegs; mole trap; pitch forks; single tree; 2 brass fire nozzles; well pump; metal lawn seat bench; car horns; Power King car mover; rear ends; assorted head lights; welding mask; tree pole saw; coveralls; blow up pool flamingo; iron 4 gal. fire pit pot with lid; vintage metal star milk stool; buck saws; saber saw; disc grinder; other items.
Terms of Auction:  Cash or check with proper I.D.,  I.D. for buyer number.  All property to be settled for day of sale.   No property to be  removed from premises until settled for.  Not responsible for  accidents or goods after sold.  Auctioneers and sale personnel work  as selling agents only and assume no liability or guarantees. Announcement's day of sale take precedence over printed matter.
We may run two (2) rings during Auction.
Sale bill and more photos available on Auctionzip.com. (Auctioneer ID: 1983)
VICKIE GRAY – OWNER