PUBLIC AUCTION Saturday – August 3, 2023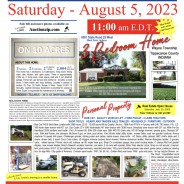 PUBLIC AUCTION
Saturday – August 5, 2023
11:00 am EDT
Location: 6501 S.R. 25 W., West Point, Indiana or 1 mile Northeast of West Point, Indiana on S.R. 25

3-BEDROOM HOME on 10 ACRES
ABOUT THIS HOME
This home has 3 bedrooms, 2.5 bathrooms, living room, dining room, den, kitchen, and open porch. There is approximately 2,004  sq. ft. living area, crawl space, slab and 2 car attached garage. Forced air, gas furnace and central air.  Includes a wood stove, 3 lawn sheds and shop building.  Located in portion of section 18, Twp. 22 North, Range 5 West. Taxes: $1,817.12 Annually,  asphalt driveway. Easement is provided for access to home. Buyer is responsible for maintenance of driveway.
5% Down Day of auction with balance at closing within 45 days after auction and is non – refundable. Buyer must have financing arranged prior to auction. Not subject to financing.  Real Estate sold subject to owner confirmation. Taxes: Taxes will be prorated to day of closing. The successful bidder will sign an offer to purchase immediately after the auction. The auctioneers are exclusive agents of the sellers. Announcements day of auction will take precedence over printed material. Merchantable, insured title will be furnished. All real estate is being sold in its existing "As Is" and "Where Is " condition with no warranties or representations of any kind, either expressed or implied as to the condition of the property or improvements theron made by the Estate or auctioneer. Each potential bidder shall exercise due diligence and is responsible for his or her independent inspection, investigations, and inquiries. Note: Easement is provided for access to home. Buyer will be responsible for maintenance of driveway.
If you have any questions or need further information regarding this property, please stop by our office downtown Covington, call Greg at 765-793-7315 or text 765-585-8418.
BOB CAT – QUALITY VEHICLE LIFT – FORD PICKUP – 4 LAWN TRACTORS – SHOP TOOLS – HEARTLAND TANDEM AXLE TRAILER – HOUSEHOLD – FURNITURE – OUTDOOR
Bob Cat 743 B Skid-Steer Loader with 2599 hours; 2012 – 10,000 pound lift by Quality Lifts Inc.; 1998 Ford F150 4 x 4 pickup with 240, 763 miles, V-8;  J.D. 185 Hydro lawn tractor with 42" cut; Cub Cadet LTX 1045 Hydrostatic 46" lawn tractor with 3536 hours; Simplicity lawn tractor with 30" cut; Wills Far-Go Heartland 2005 tandem axel trailer;  Pro Lift mower lift; Stihl 039 chain saw; Stihl MC310 chain saw; HS 45 hedge trimmer; grease guns; Olympia 5A" vise;  Stihl leaf flower; tire changer; McGraw 8 gal. air tank; post driver; Yard Works steel utility trailer;  mower belts; cast iron garden furniture; Amroy machine 16 speed drill press; Challenger grinder; fishing poles and tackle; tackle boxes; draw knife;   AC Delco utility cabinet; ABC child's table and 2 chairs; dinner bell; 2 wood Coca Cola crates; JD Higgins minnow bucket; hand movers; Werner aluminum ladder; Werner fiberglass ladder; 2 grocery carts;   wheel barrow; Primos  duck call; antique car lift; vaper heat gun; Snap On compress gauge; blue point cooling tester; C clamps McCord gasket display; new mower blades; Bosch Sawsall; sockets; hammer; car jacks; 2 oil cans with spicket; Atlas Tires electric clock; Snap on roll around; 2 person tent; yard jockey; 6 H.P. 22 ton splitting force; sledge hammers; assorted wrenches; 120 pound Valvoline grease; tree stand; game came; cookie jar; sewing box; tin sign Milo  City guide of America;  Crimson year books: 1957, 58, 59, 60;  Golden Rod year book 1946;  pots and pans;   tin toy Jazzbo Dancer on The Roof; Grandfather clock; China cabinet; smoking stand; desk; chandelier; other items.
Terms of Auction:  Cash or check with  proper I.D.,  I.D. for buyer number.  All  property to be settled for day of sale.   No property to be  removed from premises until settled for.  Not responsible for  accidents or goods after sold.  Auctioneers and sale personnel work  as selling agents only and assume no liability or guarantees. Announcement's day of sale take precedence over printed matter.
Auctioneer Note: Louie is moving to a smaller home.
Sale bill and more photos available on AUCTIONZIP.COM – Auctioneer ID 50422
Louis Greer – Owner