Public Auction – Saturday – July 10, 2021 @ 11:00 A.M. EST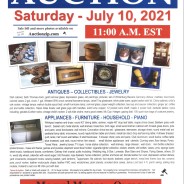 Public Auction
Saturday – July 10, 2021
11:00 A.M. EST
Location: 513 N. Newlin Street, Veedersburg, Indiana, or  blocks North of U.S. 136
Watch for Greg Clingan Auction & Real Estate signs.
ANTIQUES – COLLECTIBLES – JEWELRY
Dish cabinet; Seth Thomas clock; gold carnival glass; depression glass; old paintings; pictures; set of Winterburg Bavaria Germany dishes; marbles; boot bank; colored vases; 2 gal. crock; 1 gal. Western B/W crock; several kerosene lamps; Jewel Tea glassware; silver plate ware; apple basket with lid; China cabinet; child's oak rocker; vintage lamps; walnut double spool bed; small Hurricane lamp; carnival glass; paper weight collection; tea cup and saucer collection; ginger jar; coffee pot and kettle collection; Hazel Atlas bowls; salt glaze jugs with handles; solid lump copper; 12 pocket curio shelf; maple 4 poster bed; bedside tables; rocks including: geodes & other rocks; vintage child's rocker; 2 oak kids chairs; many good vases; Mc Coy; Haeger; gazing ball; 100 quart size bags of costume jewelry.
APPLIANCES – FURNITURE – HOUSEHOLD – PIANO
Whirlpool washer and dryer; round 42" dining table; recliner; maple 48" drop leaf table; maple china closet; Baldwin piano with bench;  basket cart; metal stands; wall shelves; bread box; bird cage; small wood kitchen cabinet with frosted glass doors; pots and pans; wood bookcases; wall mirrors; Coronation china tea set;  glassware; stemware; storage chest; round metal wall art; pedestal lamp table; microwave; round maple kitchen table and chairs; metal bar stool; drop leaf serving table; 4 drawer dresser; quilt racks; half round wall tables; 6 shelf bookcase;  6 drawer chest; pots and pans; Club Aluminum; wood ducks; coffee table blue loveseat; coat rack; round mirror; fern stand; small kitchen appliances  and  utensils; Corning ware; floor lamps; Pyrex;    Texas Ware;   jewelry boxes; TV trays;  horse statue collection;   wall shelves;  large dresser;  wall clock;   mini bottle collection; pocket knives – Case and Swiss; games and puzzles; elephant wood bowl holder; cigarette lighter collection; doilies; sheets; old bottles; vases; urns; sponge ware; sheet music; hardbound books; comforters; Galway Irish crystal; quilts including: Wedding ring, 8 Star, Lonestar, Blue Stars and Stripes, Flying Geese, others; 30 in. wood slip wheel; calendar with wood auger; bird houses; rope baskets; horse collection; pitcher and bowl set; blonde leather fur coat; depression amber dishes; yard ornaments; shepperd hooks; sewing basket; yard lanterns; Tupperware; file cabinet; foot stools; baskets; organ bench; metal bed frame; box fan; ceramic pots; porch rocker; leather motorcycle chaps; leather FMC vest; windchimes; plant stands; crooked stick canes; Jenny Lind bed; 4 ft. porch swing; sailing ship models; Holland's cast iron #8 USA pot with bail; other items.
Sale bill and pictures available on Auctionzip.com.

Auctioneer ID 1983.
Terms of Auction:

 Cash or check with proper I.D.,  I.D. for buyer number.  All property to be settled for day of sale.   No property to be  removed from premises until settled for.   Not responsible for  accidents or goods after sold.  Auctioneers and sale personnel work  as selling agents only and assume no liability or guarantees.  Announcement's day of sale take precedence over printed matter.
Marvel Moore – Owner