PUBLIC AUCTION -Date update: Sunday, November 3, 2019 – Danville, Illinois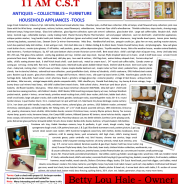 November 3, 2019
Date changed due to weather: Public Auction October 26, 2019 will be on
Sunday, November 3, 2019
12 NOON C.S.T.
LARGE CROCK COLLECTION – ANTIQUES – COLLECTIBLEs – FURNITURE – HOUSEHOLD APPLIANCES – TOOLS
Location: 941 Cunningham Avenue Danville, Illinois, or South of Bodine Electric from Warrington Ave. Watch for Clingan signs.
Large Crock Collection; Urbana 1/2 pt. milk bottle; Butternut bread whistle; lines. Chamber pots, stuffed bear collection; little oil lamps; small flowered lamp collection; pink rose Gone with the Wind lamp. sewing boxes; notions; buttons; wood flowerpot; wheelbarrow;   American Flyer child's wheelbarrow. Thimble collection; steps stools; shaving mugs; bedroom lamps; living room lamps. Glass bird collection; glass figurine collection; open salt servers' collection; glass butter dish. Large oak coffee table; Boudoir doll; chalk lamp; loomed rugs; collectable stamps; candy making mold; Plaster Nursery Rhyme Thermometer; salt and pepper collection; cast iron bird bath; small kitchen appliances; antique potato masher; long handle tooth pick holders; hull pitchers (green and white) small hand tools; stainless silverware; long handle bowl spoon; lemon juicer kwicky; colored veg baskets, assorted sizes; Stewart Grain Co mirror thermometer. Meis Bros. Handkerchief and box; penguin cookie jar; glass hen on nest; pecking rooster stature; lunch box painted; baby doll clothes; 4 slot wall gun rack; Osh-Kosh bibs size 3; Hibben Holleg & Co Want book; Toledo Overall factory book; old photographs. New salt glaze crock butter churn; rooster juice glasses; 6′ elf ladder; wall pockets; green, yellow depression glass; Toyville weather house; Bak-a-lite weather house; wooden animal baskets; tack hammers; Furniture Antiques; Sq. 40″ oak cane bottom chairs ornate Victorian corner shelf; Bent wood chair; child's oak high chair w/square tray; Jenny Lind baby bed; 6ft x 5ft oak / flat glass china cabinet; scotty dog pedestal ash tray; kitchen seat step stool; Duncan Phyfe dropleaf table w/ 6 chairs; small 2 shelf book case; ornate French provincial foot stool; Windsor chair; doll bunk bed; doll play pen; love seat & recliner; USA flag chair; walnut kidney shaped chair; Formica drop leaf table; child's sewing drawer desk; 6 shelf Knick knack shelf; cook book rack; metal ice cream stool ; 54″ round oak coffee table; Canada crown qt caning jar; ice tong; sheep bell; flat irons; 5 shelf bookcases; Marshall studio plate; bobble Indian heads; kitchen table & stove; bed room suite; high chair + baby bed, rocking chair; 3 shelf cases w/ slides; 4 piece maple double bedroom set; maple rocker w/ foot stool; pedestal fans; plaster plants stands; low tv stand w/ shelves; colored bud vase collection; pearl grandfather clock; dishes w/ bluebirds; child's cookware; DRU Holland steel coated pans Bastien cup & saucer; glass shoe collection; vintage doll furniture; electric irons; old super tip board series 1278K; Vaseline glass candle stick; heritage dolls; baby dolls head vases; small pharmacy bowls + grinders; vintage glove clip; costume jewelry; vintage trinket boxes; antique butter pat dishes; little tea sets; vintage kewpie dolls; plastic composite dolls; 1943 chauffer pin; Donald Duck baby toy; toy bunny & drum vintage; bugs bunny brass coal miners head lamp; old child's tabled bent wood chairs; little school chairs; American yard decor picnic baskets; old flower baskets; blue grass;   Ethan Allen Lazy Susan American character #2675644; idea doll vp17; child hand crank German sewing machine; old children's books; WWII books; WWI marching compass Sperry w/ case; bullseye Westlock pocket watch; pocket + knives; arrow heads; primitive wood rocking chair; child's bear rocker; doll chair; ladder back chair; small crock bowls; large salt glaze crocks; doll cradle & bed; geodes; landscape rocks; assorted garden rocks; 30- 6 in. round border stones; 1 quart butter churn; 15 in. cracked cast iron pot with bail; U.S. Mail bank; tiny brass birdcage; cookie cutters; 10 in. iron bean pot with handle; brass bells; miniature items; colored glass; pie carriers; 1916 Baldwin reader; animated Christmas; stained glass; old bubble lights; 50+ fishing reels; 12″ x 15″ chalk board; assorted old toys; 1955 Valentines; China toy set;  jewelry; silverware; loom shuttle; Little Golden books; ceramic Christmas trees; nursery Rhyme picture; Bonny Tex nursery rhyme lamp; quartz rocks; kerosene lamps; Van Camp #180 Lantern; Hibbard Spencer #2 lantern; stove hole tea kettle; copper & brass scoops; old strainers; butter plates; old pilgrim hat; Plow Boy tobacco can; tea kettle whistle; Careless Carrie playing cards; jacks; Bohemian glass perfume; Griswold skillet; Structo horse trailer; Barbie dolls; books; buttons; 1/2 peck basket; milk bottles; Firestone ash tray; Kodak Hawkeye camera; keys & padlocks; 6 gal. crock; dough crocks; large spongeware dough crock; USA pottery bean pot; 1 & 2 gal. Blue Band stoneware crock; pottery picture; 2 gal. jug; woven stool; woven seat rocker; 1873 Sunshine Songbook; wood key; doll clothes; doilies; bookcases; dress patterns; craft & sewing items; yard ornaments; doll high chair; child's ironing board; concrete geese; patio umbrella net; bird houses; chrome tea service; large crock collection; child's Kayanee sewing machine; US Army utensils; metal Aunt Jemima; area rug;  5 ft. corner curio cabinet; Kenmore washer & gas dryer; heater; hall tree; kraut cutter; log stool; Duncan Phyfe lamp table; Coca Cola clock; lawn tools; chicken kitchen collection; washboards; cup & saucer collection; hen cookie jars; jewelry boxes; Jumbo Peanut butter jar; concrete yard rooster; small pottery jugs & jars; Mr. Peanut bank; porcelain/enamelware; tea kettles; water jug holder; wood egg crate; wood box; milk can; Keebler metal 6″ clock; umbrella stand; child's oak rocker; concrete Dutch boy & girl; type setting tray; baskets; sewing fabric; fruit baskets; cobblers hammer; wood mallet; wood utensils; Dickens Christmas village; books; Girl Scout hand book; post hole digger; card tables; metal closets; snow blower; coolers; 50+ totes; lanterns; yard lights; tarps; hay hook; Cub Cadet mower; yard cart; step ladders; Craftsman leaf blower; gas cans; wood tool chest; brass hatchet head; wood buckets; Meakin pitcher & bowl set; 4 arrow back chairs with table; 3 ft. section of corner cabinet; old school desk; butter mold; deco fencing; quilting fabric; 20 ft. alum. ext. ladder; generator; shop vac; many more items.
Terms: Cash or check with proper I.D. for buyer number. No property to be removed until settled for.                                                        
Note: Many interesting and well cared for items in this auction. Impossible to list everything. Sale bill and over 200 photos available on Auctionzip.com.
BETTY LOU HALE – OWNER