PUBLIC AUCTION Saturday, September 16, 2023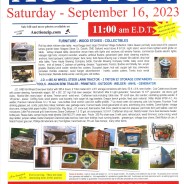 PUBLIC AUCTION
Saturday, September 16, 2023
11:00 am EDT
Location:  7252 W 450 S, Williamsport, Indiana, or  West end of Marshfield or 2 miles West of S.R. 63 on C.R. 450 S. or 7.5 miles North of U.S. 136, then 2 miles on 450 West or 2-miles S.W. of West Lebanon on S.R. 63 to C.R. 450 S, then 2 miles West.  Watch for Greg Clingan Auction & Real Estate signs.
FURNITURE – WOOD STOVES – COLLECTIBLES
Roll top desk; kitchen side table;  wood buggy seat; large Christmas Village Collection; Idaho Queen pot belly wood stove #14; peacock lamps granite base; Niagara Stove Co. Duluth; CME Garland wood stove # 8-12A; night stand; wood chairs lighted world globe on table;    kidney shaped table; decorative venue trees with lights and  anchors; old window frames; commercial double electric lights; Halogen light kits; Acroprint recorder; wreaths; artificial flowers; galvanized vase; drain  cleaning machine; anchors; hand sprayers; radio/cd player; fans; lamp; Sold Spice shaving cup; 2 drawer file cabinet; drop leaf side table; Terre Haute Brewing Company bottle; Danville Brewing Company bottle; baby wood shoe horns;   mini oil lamps; C Jackson oil painting; dresser; Tupperware; Fenton; Bodine and Shelby fan; acrylic grapes; Stanley lunch cooler; window fan; coolers; Occupied Japan; hob nail; copper ash tray; silverware; porcelain thimble collection; wood hanger advertisement – hotels; cookie cutters; Tonka truck rental thermometer; Mellville bottle works; canning jars; old bottles.
                    J.D. x 485 All WHEEL STEER LAWN TRACTOR – 2 TRITON 53' STORAGE CONTAINERS – TOOLS – WAGON SEMI TRAILER                                 PRIMITIVES – OUTDOOR – WELDER – ANVIL – GENERATOR
J.D. X480 All-Wheel Drive lawn tractor with 365.4 hours; 2 Triton metal 42 ft. x 8 ft. storage containers with fans; 53 ft. x 8 ft. semi-trailer;  Cub Cadet snow blower with power steering; homemade wagon: 58" x 85"; 32" Agri Fab lawn sweeper;  McCulloch Mite E Light generator; Tecumseh 10 H.P. generator;  old doors; golf clubs;   Mantis tiller; many tarps – all sizes; Trenton anvil – solid wrot;   Craftsman tools including: table saw, 18" scroll saw, disc sander; oscillating spindle sander, 6 1/8 jointer – planer;  Coffing hoist; wood planes; coal buckets; Irwin auger bit; egg baskets; Oregon bench grinder; feed sack material;  Miller Model M180 A.C. Arc welder; Premium natural stones 12 x 12 new ; new bottles Grub control; cast iron waffle griddle;  7 Up wood crate; old camping cots; bird houses; Fountain Trust drinking glasses; ext. cords; parts bins; bikes; helmets; vise; garbage cans; 3 arrow heads; small galvanized oil cans; advertising pins; mallets; Camel lighter; vintage door pars; vintage toilet paper holder; Carhart bibs; Play Boys; J.D. snow suit; feed sacks; Sad irons; plastic & cast iron plaques; yard tools bird yard stakes; cast iron miniatures; Little Pal charcoal grill; draw knives; Sears Craftsman 1.5 12 gal. air compressor; 5.0 H.P. Craftsman shop vac; Reddy heater; Dura heat kerosene heater; bottle jack; Reese balls; cement tools metal wheels; Stihl MS 271 chain saw;  Poulin  330 Pro chain saw; 5 milk cans; railroad jack; weed trimmers; come a long; wood step ladder; jumper cables; Delta Champion Diamond plate tool box; barn door trolleys; truck running boards;   grease gun; vintage door chime; Shell Motor oil can; A Mobil Product gas can; Phillips 66 lubricant can; Ford lighter; hand held vac; Pro ad. Saw horses;      many other items.
200 + Pictures available to view on Auctionzip.com. Auctioneer ID: 1983
AUCTIONEER NOTE: Curt is moving.  There are many interesting items in this auction.
Terms of Auction:  Cash or check with proper I.D., I.D. for buyer number.  All property to be settled for day of sale.   No property to be removed from premises until settled for.  Not responsible for accidents or goods after sold.  Auctioneers and sale personnel work as selling agents only and assume no liability or guarantees. Announcement's day of sale take precedence over printed matter.
CURT HOBAUGH – OWNER