PUBLIC AUCTION – Saturday September 14, 2019 – 11 AM CST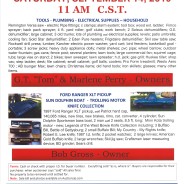 Saturday, September 14, 2019 –
Location: 1333 Perrysville Road, Danville Illinois – 1333 Perrysville Road, Danville, Illinois, or Southeast of Danville on Perrysville Road, then 1/8 mile South. ( Watch for Clingan signs )
TOOLS – PLUMBING – ELECTRICAL SUPPLIES – HOUSEHOLD
Remington Versa saw – electric Pipe fittings; c clamps; alarm system; tool box; wood ext. ladder;  Fimco sprayer; back pack sprayer; 4 ft. yard roller; golf clubs; work bench; 2 Soleus dehumidifiers; G.E. dehumidifier; large cabinet; 3 old trunks; lots of plumbing and electrical supplies; levels; patio umbrella; cooling fan; Gold Star dehumidifier; 2 Eden Pure heaters; Frigidaire dehumidifier; Skil saw table saw; Rockwell drill press; lumber; Karcher electric power washer; yard cart; bird feeders; basketball goal – portable; 3 screw jacks; heavy duty appliance dolly; metal shelves; pvc pipe; wheel barrow; outdoor water fountain; gas cans; fence post; several planters; lawn tools; large commercial fan; squirrel cage; tubs; large vise on stand; 2 bikes; lawn sweeper; lawn spreader; h.d. jack; gas grill; Huskee tiller; shop vac; step ladder; desk; file cabinet; small cabinet; golf balls; coolers; Pro Form treadmill; Weslo Aero 700 ; AB lounger Max; lawn chairs; Christmas items; old hand tools; iron skillets; glasses; many other items.
G.T. "Tom" & Marlene Perry – Owners
FORD RANGER XLT PICKUP  – SUN DOLPHIN BOAT – TROLLING MOTOR KNIFE COLLECTION
1997 Ford Ranger XLT pickup, with Patriot hard cap, 140,085 miles, new tires, new brakes, rims, cat. converter, 4 cylinder; Sun Dolphin Sportsman bass boat, 2 man with 2 seats, 8.5 ft. long;  Minn Kota trolling motor – new; Legends of the West Bowie Knife Collection including: 3 Buffalo Bill, Battle of Gettysburg; 2 small Buffalo Bill; My Country – My Rights knife; Robert E. Lee knife; 1987 I.U. knife; 2 pocket watches;  2 large knives; American Gold Buffalo knife; 2 large wrenches; Skil jig saw; Craftsman laser measuring device; BD grinder; Sears drill.
Bob Gross – Owner
Terms: Cash or check with proper I.D. for buyer number.  Everything sold "as is, where is". Buyers are responsible for their purchases when auctioneer says "sold" All sales final.
No property to be removed until settled for.
Note: Sale bill and photos available on Auctionzip.com