PUBLIC AUCTION – SATURDAY – SEPTMEBER 17, 2022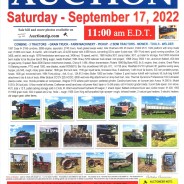 PUBLIC AUCTION
SATURDAY – SEPTMEBER 17, 2022
11:00 am EDT
Location:  9914 W 825 S, Covington, Indiana, or ¼ South of State Line on C.R. 1075 W., then 6/10-mile East on C.R. 850 S., then ¼ mile North on C.R. 1000 W., or 4 miles West of Covington on U.S. 136 then 1-mile North on C.R. 800 W., then 2-miles West on C.R. 1100 S., then 2.75 miles North on C.R. 1000 W, or 5 miles N.W. of Foster, or 5 miles Northeast of Danville, Illinois. Use ZILLOW mapping for accurate directions.
COMBINE – 3 TRACTORS – GRAIN TRUCK – FARM MACHINERY – PICKUP – 2 SEMI TRACTORS – MOWER – TOOLS – WELDER
1997 Case IH 2166 combine, 3858 engine, separator, 2740 hours, head gasket seeps water; Allis Chalmers WD 45 tractor; IH400 Tractor; 25 ft. 1020 platform with shop made cart; IH 983 corn head,  8 row/30,  with Univerth cart; JD 4230 tractor with 4,958 hours, converting SG to open 4 post rops; 1991 Ford semi, good running condition, Cat 3406, wet kit, rest is rough; 1978 Hendrickson semi spun rod, 3406 rod, 10 speed, wet kit.; 1980 Hobbs 30 ft. dump trailer; 30 ft. up trailer for storage; Ford 3000 industrial berm loader to be tile plow trench filling auger, needs finished; 1954 Chevy 5700 cabover truck street l rod project ; 1998 Chevy 3500 1 ton, aluminum flatbed, 454 died air gas pump, 5 speed; Bare 2005 Damon motorhome chassis, Chevy 8.1 496, Allison transmission; Polaris 1996 Big Boss 400L 6x 6, engine, tires, chains, Great Plains 15 Batwing mower, PTO small 1000, new blades, model RCM5015; Ber Vac snowblower 540 pto, 8 ft.;  IH 735 plow; Westfield 61/10 hydraulic lift, gearbox swing away hopper, pto 540, rough; rotary grain cleaner; 1600 gal. SS truck tank; 1700 gal. liquid tanks, Norwesco blue, 5 stationary 1 with truck tie downs; 3/2 inch portable pumps, hoses; 1000 gal. horizontal tank; 1994 Ford pickup , 4×4, 6 cyl., 124,912 miles; Butler 1992 tool trailer; Tebben 3 point tractor forklift with hydraulic tilt; bulk bag forklift attachment; lots & lots of tools; Miller Bobcat CC/CV 225 AC/DC, 8000 watt wire Mig attachment on shop built cart, nice; Thermal Dynamics Professional 102 Cutmaster plasma cutter, nice; Honda portable air compressor, Wagner 9170 airless paint sprayer; pedestal grinder; Carolina band saw; air bumper jack Ausco 14,000 lb. Model 51310; SK tool jack; ½ floor model drill press; Craftsman wood band saw; old power feed, taper or ½ drill press; old IH tractor grader blade; 3 point bale spear; corn stove; 40 ft. total x 12 ft. pallet racking storage sold in 2 lots; M. Ward wood boxed hydraulic lift wagon; 1 shank ripper; flatbed cordwood buzz saw; sickle mower; IH 400; 1963 IH 1600 grain truck; 304 4 speed and 2 sp. Hoist – rough; 1956 Corn King self-propelled high sprayer- rough; infrared heater; 2 natural gas heaters; 3 electric heaters; old wagon gear; other items.
Terms of Auction:  Cash or check with proper I.D., I.D. for buyer number.  All property to be settled for day of sale.   No property to be removed from premises until settled for.  Not responsible for accidents or goods after sold.  Auctioneers and sale personnel work as selling agents only and assume no liability or guarantees. Announcement's day of sale take precedence over printed matter.
AUCTIONEER NOTE: Jim has retired from farming. Many items have not been used since farm went into CRP in 2016.
More pictures and sale bill on Auctonzip.com. Auctioneer ID #1983.
JIM SWITZER – OWNER