Saturday – March 20, 2021 @ 11:00 am EST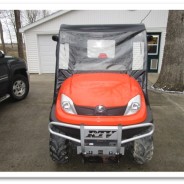 PUBLIC AUCTION

 
Saturday – March 20, 2021 @ 11:00 EST
LOCATION:

Covington City Park, 1 City Park Dr. Covington, Indiana
Watch for Greg Clingan Auction & Real Estate signs.
KUBOTA RTV – BIG DOG ZERO TURN MOWER 
SHOP TOOLS – PRESSURE WASHER
CANOES – 2 KAYAKS
FURNITURE – SEEBURG JUKE BOX
010 Kubota RTV 500 with 318 hours; 2012 Big Dog RT54 Zero turn mower with 422 hours,  Kubota V4308  snowblade fits RTV – sells separate; Stihl gas  F575 weed trimmer; Echo gas GT255 weed trimmer; Echo  PB230LV leaf blower; Stihl BG75 leaf blower;  Kawasaki GE5000 A-5 generator; Yardman XMGBV blower/Vac; Mantis 2 cycle tiller; Stihl 024AV Woodboss chainsaw; Stihl 012AV; Briggs and Stratton  Model #020503  3000 psi pressure washer; old Sears table saw; bottle jacks including: 1 – 5 ton, 1  -ton, 1 -8 ton; 1- 12 ton – new; Rockwell Industrial table drill press with attachments; batter chargers including: Marquette, Silver Beauty, 10 A voltage controlled; 2 tree trimmer/ pruner adjustable cutters; cordless electric trimmer/ pruner;  seal driver set; 2 sewer snakes; BD 7 1/4 saw; Skil 7 1/4 saw; BD sander; Snap On solder gun; Makita jig saw; Sioux grinder; Sioux sander; 10 plus micrometers; runout gauge; DA sander; dwell meter; 200 amp. service box; vinyl covered 3/8 cable 40 ft. and 80 ft.; old lanterns; cable power pull; handy man jack; 1 ton roller chain – Coffing Hoist; 1 ton chain hoist – multi pulley; engine rebuild tools – cylinder hone, cylinder deglazer, cylinder bore gauge, several ring compressors; tire chain set; tap and die sets; misc. reamer sets; valve lash gauge; old Oxy – acetelyne torch set with cart; KMC soldering gun in case; 3/8 elec. drill; 1/2 HD elect. drill; pneumatic tools including: muffler gun with bits; HD air hammer (CP); air drill; cut off saw; 2 submersible utility pumps; puller; slide;  Trias trap thrower; many new cabinet doors and drawer fronts with hinges; framed Brewers A/B Michelob mirror; framed Miller GD 1992 Bobby Rahal mirror; 2 Dolphin fiberglass canoes;  2 person plastic kayak with paddles; lamp;  2 wide mirrors antique mirrors; Seeburg juke box; lawn tools; Ethan Allen corner cupboard; metal chairs; dethatcher; 3 T.V.'s; fans;   2 humidifiers; dehumidifier; 36 in. flat screen TV; 19 in. flat screen TV; 20 in. flat screen TV; Bissell and Old Doyle shop vac; turkey frier; 4 white resin chairs; 5 metal chairs; two sets of card tables; 2 wooden trunk tack boxes; 6 ft. ladder; weight bench; Coleman camping stove; board games; rugs; several boxes of misc. items;  other items.
Terms:  Cash or check with proper I.D.,  I.D. for buyer number.  All property to be settled for day of sale.    No property to be  removed from premises until settled for.   Not responsible for accidents or goods after sold.  Auctioneers and sale personnel work  as selling agents only and assume no liability or guarantees.  Announcements day of sale take precedence over printed matter.
Sale bill and pictures available on Auctionzip.com
Mike & Pamela Hale – Owners
Auctioneer Note:                                                                                                                                                                                                Mike and Pam have moved. This is a nice auction sale with many items that are well taken care of.