Saturday, Nov 18 | Oakwood, Illinois | Jerald Cline Auction
Location: 10107 E 1600 N Road, Oakwood, Illinois or 1 mile East of Oakwood on 150 to Mission Field Road, then  ½ mile South, then ¼ mile East on C.R. 1600.  Watch for Clingan signs.
SATURDAY, NOVEMBER 18, 2017
10 A.M. Illinois Time   
11 A.M. Indiana Time
NOTE: PORTION OF AUCTION TO BE HELD IN LARGE GARAGE and HOME, IN CASE OF RAIN.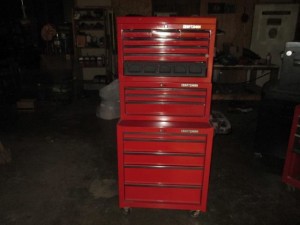 PORTAMATIC AIR LIFT – LAWN TRACTORS – TOOLS – RAILROAD ITEMS
Husquarva VTH 24V48 Lawn Tractor with only 95 hours – nice; 2 Craftsman lawn tractors – not running Ranch King Lawn Tractor 18-46 7 speed not running; Werner Alum. Ext. Ladder; Craftsman 6.0 Self-propelled Mower; 4 H.P. Yard Machine Motor; Craftsman 19 H.P. Platinum motor; Industrial Plus Briggs & Stratton Motor – 3.5 H.P.; Craftsman 12 H.P. Briggs & Stratton; Intekic 6.5 H.P. Motor; Parts Washer; Gray Porta-matic Airlift; Snap-on Cabinet; Porta Power Hydraulic Hand Pump; 1.5 ton Cherry Picker; Kwik Way Valve Grinder; dolly; lawn tools; car ramps; live traps; 6 railroad lanterns; new 12 v tow light kits; roll around tool boxes – Craftsman – Herband; portable air tank; wheel barrow; gas cans; 2 galvanized cans; leaf blower; wood step ladder; extension cords; Craftsman ½ drill; Skil Disc Sander; Craftsman Hand Sander and ½ Hammer Drill; buffers; B&D Drill Bit Sander; 2 stack wall cabinet; saw table; outdoor lanterns; fuse box; Snap On Craftsman, Williams, Blackhawk  sockets/rachets; volt meters; all sizes calipers; 3 roof shovels; sledge hammers; screwdrivers; saws; level; 4' lawn roller; Pro-Welder CTS 2 Cycle Mower Motor; metric sockets; deep well; sander Marlboro clock; bench vise; chain hoist; chains; tire press; tow bar; railroad pipe pullers; 3 ton hydraulic Larin garage jack; Pittsburgh transmission jack – 800 lb.; crow bars; ¾ Snap On rachet; AC 225 Arc Welder; AC Fire Ring clock; helmets; fishing poles; railroad 2 man tongs; 2 ton Bern jack MVP; truck step side rails; camera collection; truck bed 4'x6' trailer; 4'x7' trailer; 4'x8' trailer; 6'x8' green house; 8'x12' yard barn; shelving units; ridged pipe wrenches; valve seat grinder set; ball joint inspection – K.D. tools; tubs of wrenches; jumper cables; axes; cast iron ash tray; Louisville & Nashville Railroad hand books; vibroplex; electric leaf blower; Toro Welding helmet; 2 carbide lights; red hand pump; oil lamps; many Chilton Auto Manuals; light fixtures; weed trimmers; power tools; body fender set; wheel pulley set; 1500 watt steam cleaner kit; skull shifter knob; galvanized oil cans; Strut spring compressor set; saw horses; trailer jack; chicken wire; coolers; and many other items.
 FURNITURE – APPLIANCES    
Oak Coffee Table; Alexis keyboard; records; Technics SX GH organ; crock bowls; oak dining table with two leaves, 6 chairs, washer & dryer; 2 wingback chairs; 2 end tables with drop leaf coffee table; lamps; painted table; wife sofa; kitchen items; queen size bed frame with dresser; plastic Coca-Cola cooler; yard wagon; fold-up card table/inserted chairs; and other items.
Terms: Cash or check with proper I.D. for buyer number. Generations Catering.
JERALD CLINE – OWNER