Saturday, October 3, 2020 PUBLIC AUCTION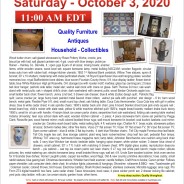 PUBLIC AUCTION



Location: 476 U.S. 136, Veedersburg, Indiana –  Fountain County  4-H Building or 1 mile West of Veedersburg on U.S. 136.
                                        Watch for Greg Clingan Auction & Real Estate signs.
Saturday – October 3, 2020
at
11:00 AM EDT
Quality Furniture  – Antiques  –

Household – Collectibles
Wood butter churn; salt glazed stoneware by Rowe Pottery Works; crocks; jars; biscuit jar with bail; salt glazed canister set; 4 gal. crock with blue design; pickle jar; Rainer – Heinley Co. Danville, Il.; open jugs & jars of all sizes; mixing bowls; enamel items; white wooden swans; wood bowl set; square kerosene lamp; metal bulldog M3C23/M; wooden flagpole; circular brass auto horn with rubber ball; vintage kitchen utensils; 1952 1st National Bank yardstick; Willow Tree statues; apron & bonnet; 30" x 10 shutters; metal lamp with metal perforated shade; 14 Royal Copenhaven blue wall hanging plates; wooden memories box; royal Staffordshire bone dishes; blue woven Fountain County throw; 5 ft. blue display ladder; flower bench table; blue /White Robinson High jar Roseville, OH; storage box with rooster motif; marbles; glass top canning jars; 2 brass bell door hanger; patriotic side table; metal star; walnut wall clock with crane on glass- Seth Thomas 24 hour; oak wash stand with metal pulls; oak v shaped child's chair; dark washstand with ceramic pulls; wood Barbar Orchards apple box; small ladder back chair; flower bench; Jenny Lind bed; 3 drawer oak dresser; blue & white Zodiac design quilt;  Patriotic flag quilt; Lance cracker jar; large hump back painted metal &wood chest rollers;  walnut pie safe with punched  star design – 6 tin; barn wood bench; metal gate; Flexible Flyer 5 ft. sled; small round top chest; oak folding table; Coca Cola thermometer; Coca Cola tray with girl in yellow dress; blue & white cedar chest; 4 oak spindle chairs; 1900's ladder back arm chair; pine 6 board blanket chest book jack ends square nail ; bread board top; child's rocker with slate seat; yellow & white machine stitched quilt 1920's; maple bread boards; mallard drake buck decoy 1950's; small tin oil can with handle; 4 hairpin black ice cream parlor chairs; serpentine front oak washstand; folding oak sewing table marked Indiana University; teen size school desk with seat; wooden kitchen cabinet – 2 piece; 4 piece stoneware farm scene set painted by Peggy Clark; Roseville jars; wood framed mirror; multi colored braided throw rugs; wall mount kerosene tin bracket; coal bucket; baskets; oval mirror; cracker jar; Carolina wash board table; metal ceiling light; 4 ft. welcome sign; Challan N.Y. brass scale; stoneware pottery all sizes; Schwinn ladies bike; other fine items. Vizeo 21" flat screen TV; Vizeo 18" flat screen TV; 30 Vizeo flat screen TV; Open corner cabinet – blue & white; 2 flat top trunks;  4 dark blue Windsor chairs;  Tell City maple Formica drop leaf table; Tell City maple tea cart; blue storage cabinet; plaid wing back rocker/recliner; drop leaf tea cart; pedestal floor lamps; Whitney TUT area rug; hammered brass magazine rack; lamp table; Johnston Benchworks one cushion wing back chair sofa; 2 navy blue Windsor bar stools; bedside table; hanging spice drawer; white wicker rocker; 3 drawer blue chest of drawers; small cabinet; 30" x 7 ft. hutch with matching 5 drawer chest; WW digital glass scales; reproduction deacons bench – pie cabinet – oak top ice cream parlor set; lawn chairs; 5 x7 rug; red white park bench; maple rocker; silloute pictures; fan; metal watering can; electric kerosene lamp; small braided throw rugs; wall art; 4 ft. Uncle Sam wooden butcher; brick oven service for 8 Scandia blue dishes; Homer Laughlin plate; copper tea kettles; wood flags; Old & new country primitive decorations; hose caddy; small rabbit statues; blue gazing ball; Christmas decorations; Whistler hand held scanner; candle holders; Craft How to books; Canon printer; Fellows paper shredder; oak computer desk; desk chair; tin window lights; placemats & hangings; Showtime  rotisserie & BBQ – new; Toastmaster grill ; Coleman cooler; colored throws; bird house; Electrolux battery; Shark Rocket sweeper; stainless cookware; Microlite luggage; area rugs; Pro Form ZT4 digital treadmill; box fans; Lane cedar chest; Tasco binoculars; book case; 4 piece wicker porch set; 2 drawer locking file cabinet; yard pots; step ladder; milk can; ice cream stools; garden hose; other items.
A very sharp auction. Quality throughout.
Terms: Cash or check with proper I.D. for buyer number.  No property to be removed until settled for.
Note: Sale bill and
more photos

available on Auctionzip.com.
Ruth Stewart Estate – Owner