ESTATE AUCTION on Saturday – September 11, 2021 @ 11:00 am E.S.T.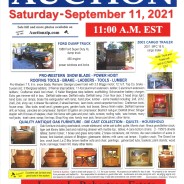 ESTATE AUCTION
Saturday  September 11, 2021
11:00 am E.S.T.   
LOCATION: 500 E. Monroe Street, Attica Indiana or 1 block East of Alsop Chevrolet on Monroe St.                                                                  Watch for Greg Clingan Auction & Real Estate signs.
FORD DUMP TRUCK  
1988 Ford Super Duty XL dump truck
460 engine
power windows and locks
2001 CARGO TRAILER 
2001  MFC 16 ft.
cargo trailer
Note: Truck and Trailer will sell at 12 Noon EST
PRO-WESTERN  SNOW BLADE – POWER HOIST – ROOFING TOOLS – BRAKE – LADDERS – TOOLS – LUMBER
Pro-Western 7 ft. 6 in. snow blade; Reimann Georger power hoist with 3.5 Briggs motor; 12 ½ ft. Tap Co. brake – 5 years old;  3 fiberglass ladders;  3 Werner step ladders;  11-foot aluminum extension. ladder; 2 aluminum extension ladders;  Craftsman stack tool chest;  6 Keller fiberglass step ladders; scaffolding; Schumacher battery charger; Echo gas trimmer still in box;  DeWalt table saw; DeWalt radio; DeWalt lamp; 3 ton floor jack; 3 head shop light; hand tools; car ramps; brass fire extinguisher with lamp; hand plow; lumber – some treated including: 2×8, 2×12, 2xs6, 2×4; shop vac; 4 drawer file cabinet; 2 wheel barrows;  lawn tools; wood carpenter tool box;  Craftsman tools; house wrap;  Mac tools; small anvil; grease guns; garden tools; tool boxes; Senco finish nailer; DeWalt hammer drill; air hoses;  pancake air compressor; Sanborn 30 gallon air compressor; Bostitch nail gun; DeWalt driver; Stinger stapler with 8 boxes of staples; chain link fence with gate and post; nails, screws; roofing nails;  saw horses; many roof jacks;  trash cans; scrap; live trap; Shop King vise; handy man jack; fence post driver; other items.
QUALITY ANTIQUE OAK FURNITURE – DIE CAST COLLECTION – QUILTS – HOUSEHOLD
Oak furniture including washstand; ornate sideboard; white oak buffet; quilts; Morris chair; Ithaca grandfather clock; tiger oak library table; bed and matching dresser with marble top;  tables; 4 cane bottom chairs;   2 – 1950'S dinette tables; barrel rocker; 1 brass and glass lamp table; 2 brass containers; old mirrors; die cast collection of autos in boxes; foot blanket; picture of Bridgton; glassware; dishes; milk cans; cat lamps ; 5-gallon crock; The Grand Ice box; crock bowl; La Z Boy brown leather sofa and chair; paintings;  galvanized tubs; baskets; plant stands; wood trunk; nail kegs; tread mill; many other items.
AUCTIONEER NOTE: Excellent oak furniture and good tools in this auction.
Pictures and sale bill available on AUCTIONZIP.COM   (Auctioneer ID #1983)
Terms of Auction:  Cash or check with proper I.D.,  I.D. for buyer number.  All property to be settled for day of sale.   No property to be  removed from premises until settled for.   Not responsible for accidents or goods after sold.  Auctioneers and sale personnel work  as selling agents only and assume no liability or guarantees.  Announcement's day of sale take precedence over printed matter.
Concessions :Callahan Ventures
James L. Robertson Estate