ESTATE AUCTION Saturday-September 18, 2021 @ 11:00 am C.S.T (Illinois time)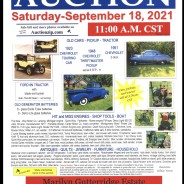 ESTATE AUCTION
Saturday-September 18, 2021
LOCATION:  15553 E 2750 N Road, Danville, Illinois or 1.3 miles West of Bismarck, Illinois on C.R. 2750 N ,   or  4  Miles North of Danville, Illinois on Route 1 to C.R. 2750N,  then 1/10-mile East. 
11:00 A.M. CST (Illinois time)
OLD CARS – PICKUP – TRACTOR
1923 CHEVROLET TOURING CAR
1948 CHEVROLET THRIFTMASTER PICKUP  serial # 3FP – H
1951 CHEVROLET  2-door
FORD 8N TRACTOR with blade and bucket. Note: Ford 8N tractor  – not running.
Cars, pickup, and tractor sell at 12 Noon CST
OLD GENERATOR BATTERIES
8 – glass Exide Tytex batteries 8 – Delco Lite glass batteries
HIT and MISS ENGINES – SHOP TOOLS – BOAT
The New – Way Motor Co. Lansing, Michigan engine – Quiet Way;  Fairbanks – Morse engine FM type; Delco Light 850 32 volts, 30 amp. manufactured 1917;  Homelite blower; Carter Motor Co. rotary converter;  Montgomery Ward  Power Lite 2500 W – F.M. type; Delco Light  Model 752 1929, ; Clinton Engine corp. generator; Quiet Way pump jack – Cherokee, Iowa; Master Motor; Miller A.C. arc welder;  2 Craftsman roll around toolboxes; Craftsman table saw; 6 blow torches; yardsticks; 2 cycle Maytag washer; push mower; big insert hitch; Temp Wood stove; lawn roller;  reel mower with motor; 10 lanterns; lawn roller; Kraft 12 foot and aluminum boat; G.E. voltmeter old;  homemade lawn cart; crates; baskets; Michelin tires from 1 ton Chevy truck; Quiet Way pump jack; air compressor; car ramps; 1 bottom plow; 2 kettles; old Snapper lawn tractor;  tiller; lumber; old license plates; Honda Spree minibike; croquet set; 5 Titan tires; wood pulleys; drill press; old wall mount drill press; scroll saw;  belt sander; ornate pitcher hand pump; fountain;  tiller; lawn spreader; radiator; old crates; baskets; lawn cart; other items.
ANTIQUES – QUILTS – JEWELRY – FURNITURE – HOUSEHOLD
Hawkeye Union cupboard; cabinet;  old GE refrigerator, 3 old fans; yard sticks; old radios;  Roadmaster Moped and one for parts;  kids desk; hobby horse;  fern stand;  piano;  old wood sled; red wagon; jewelry;   Rogers silverware; quilts; Lane cedar chest; quilt tops; Brownie camera; wool blankets; old linens; vintage clothing; lace table clothes; DAR brass sign; train set in box; war stamps; 1930's clothing; Samsung TV; Clayton Marcus sofa and loveseat; hospital bed; kettle on stand; grill; slide projector; ping pong table;  ice cream maker; Coleman cooler;  dinner bell; 6 ft. cabinet; old ornate bird bath with bird; lots of jewelry; Salad Master pots and pans; Gambles girls banana seat bike; Schwinn girls bike; other items.     
Pictures and sale bill available on AUCTIONZIP.COM   (Auctioneer ID #1983)
Terms of Auction:  Cash or check with proper I.D.,  I.D. for buyer number.  All property to be settled for day of sale.   No property to be  removed from premises until settled for.   Not responsible for  accidents or goods after sold.  Auctioneers and sale personnel work as selling agents only and assume  no liability or guarantees.  Announcement's day of sale take precedence over printed matter.  IL Tax Law: Due to recent tax laws implemented in the State of Illinois, all auction companies are required to collect sales tax. Bidders who have a valid tax-exempt certificate must present this certificate date of auction.
Concessions: Callahan Ventures
Marilyn Gutterridge Estate