Estate Auction – Saturday – June 18, 2022 at 11:00 am EDT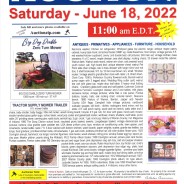 Estate Auction
                                                      Saturday – June 18, 2022
  11:00 am EDT
Location:  9914 W 825 S, Covington, Indiana, or ¼ South of State Line on C.R. 1075 W, then 6/10-mile East on C.R. 850 S, then ¼ mile North on C.R. 1000 W, or 4 miles West of Covington on U.S. 136 then 1-mile North on C.R. 800 W, then 2-miles West on C.R. 1100 S, then 2.75 miles North on C.R. 1000 W, or 5 miles Northeast of Danville, Illinois
BIG DOG DIABLO ZERO TURN MOWER: 1365 hours – 60-inch cut – 27 H.P.
TRACTOR SUPPLY MOWER TRAILER:  8 ft. mower trailer                                                                                                                                                                         
Note: mower and trailer will sell at 12:00 noon.
          ANTIQUES – PRIMATIVES – APPLIANCES – FURNITURE – HOUSEHOLD
Kenmore washer; Kitchen Air refrigerator; Whirlpool glass top electric range; antique maple pastry cabinet; hump back trunk; old school books 1887 up; metal bread box; floor lamps; vintage games; 6 ft. red washed kitchen cupboard; Jenny Lind double bed; old pictures; 246 train set; vintage clothes; class sweaters; K of C sword; maple dresser; sea shell display; rocking chairs; 33 drawer metal file cabinet; Walnut desk; Walnut wash stand; wicker arm chair; oak pressed wood youth rocker; oak  high board bed; unique steamer chest; walnut Pet Point side chair vintage; oak 2 draw dresser with large mirror and hat box; 3 shelf bookcase; 9 ft. by 12 foot oval brown run; small  Windsor rocker; Vintage electric grandmother clock with radio L.S. Brach Elect. Clock Corp. 1930's; Perfection Country flowered sofa; Burnell walnut pump organ with 3 legged stool; Wedding Ring cutter quilt; walnut tea  cart with glass top; maple drop leaf table; 6 heavy vinyl folding chairs;   Cranberry glass swirl vase and nail basket; Cushman Colonial Creations Furniture; Lexington dresser and 2 end tables; milk glass; kerosene lamps; vintage pictures; white Bak A Lite purse; Purdue buttons, books, hats; oak rocking chair; colonial bench; Deacons bench; 1888 History of Warren, Benton, Jasper and Newton County;  USA flags; Campbell kids vintage pictures; cardboard suitcase  gauges; old book ; doilies; mahogany hand mirror; red fox stole; 4 ft. oak porch swing; wood and iron bench; patio table and 2 chairs; baby stroller; baby buggy; little red rocker; wood ironing board; tricycle; # 3 gal. tub; 34' door with glass; hand push mower; double handled glass gallon jugs; school desk; wood pop cooler and galvanized cooler; windows; chairs; shutters; card table; picnic table; 20" grinding stone; canning jars; rustic tools; animal trap; 2 gal. crock; 1 gal. crock jug; History of Warren County; Ind. Magazine of Indiana; 1880 The Song Clarion school book; insulated picnic basket; jewelry; Longaberger basket; vintage stereoscope and pictures; buttons; blue granite ware canister set; USA dress uniform pins; toys; window air conditioning units; lawn geese; yard ornaments; render kettle; rustic 7 ft. 3 door cabinet with bottom shelves; wash boards; paper weights; scales; granite tea kettles; ice tongs; food grinders; primitive kitchen tools; old silverware; 1 gal. salt crock; soldiers primitive hat; old roller skates; flower pots; 1922 Covington annual; hammock; ice tongs; Hummel figurines; cook books; wood shelves; rolling pins; windup Easter egg toy; spoon jar; clay pipe; Meakin pitcher; pearls along the Wabash; WLS Family Album books; 1938 Covington annual; picture post card books; Purdue coasters; Fenton cake plate; RS Germany tea pot and sugar bowl; pink depression dog ash tray; salt and pepper shakers; pocket knife; cruet; coo-coo clocks; Robin Hood lunch box; toy friction car; child's blocks; green depression saucers; pink depression lace edge veg. plate; lead crystal fruit bowl; Dell comic books; vintage cigarette lighter;   primitive pool table and balls; Swisher pig and hog feed sack; maple drop leaf dining table; primitive watering and kerosene can; 12" cube cedar box; 1912 Williamsport annual; 1827-1927 Warren County plate; 1942 Covington photo album; tin type album; Judyville System Ad 1906; 1930's valentines; State Line 1890 Preachers book; 1926 famous poems; antique calling cards; 4 H ribbons; many other items.
Sale bill and more photos available on Auctionzip.com. Auctioneer ID # 1983.
Terms of Auction:  Cash or check with proper I.D.,  I.D. for buyer number.  All property to be settled for day of sale.   No property to be  removed from premises until settled for.  Not responsible for  accidents or goods after sold.  Auctioneers and sale personnel work  as selling agents only and assume no liability or guarantees. Announcement's day of sale take precedence over printed matter.
                          Alan J. & Betty Jo Switzer Trust – Owner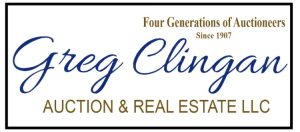 Auctioneers
     Greg Clingan   IN-AU01040362
    Hannah Clingan   IN-AU11800013