Fogleman Auction: Sunday, October 8 | 12 NOON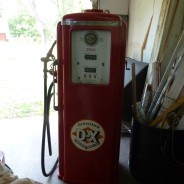 PUBLIC AUCTION
Location: 754 West Ferry Street, Cayuga, Indiana. (West end of town on S.R. 234)
SUNDAY, OCTOBER 8, 2017 
12 NOON Eastern Time
ANTIQUES – COLLECTIBLES – FURNITURE – HOUSEHOLD
Crocks; oak rocking chair; pressed oak wood table 24" x 36" w/ carving on legs; 1940's tilt top card table; ; oak frame bevel mirror;  old one blub floor lamp oak 14" x 14" pressed wood Queen Ann leg table; pink Victorian lamp 36" tall; oak desk chair; oak old time office chair on rollers; Gone with The Wind lamp; Roos cedar chest;  3 drawer walnut  blanket chest; 4 drawer burled wood chest; 3 drawer dresser with marble insert; small oak dresser; vintage vanity with bench; square lamp table; old portrait of girl;  4 drawer walnut chest; walnut 1950's dining table with fluted legs; 1950's porcelain top table with pullout leaves; white kitchen cabinet with glass doors; wooden German cabinet  6' x 8 ' – 9 drawers; end tables; popcorn machine;  Clabber Girl cans; Fire King bowls; cigarette case with lights; floor lamp; small stands;  ice picks; oak school chair; 5 ft. wood sled; kerosene lamps;  7 ft. tall display lighted cabinet; 4 wooden ironing boards; Sally  Ann Bread display shelves; 2 dressers; large desk; file cabinet; WW II papers; Army blanket; Capehart TV 1953 in cabinet; 7 UP metal cooler; park bench; metal yard chairs; tricycles; bikes; JC Higgins Spring rocking Wonder horse; eagle statue; coffee mill; small oak bookcase with doors; 8 ft.  long 5 tier oak magazine rack; 5 gal. jug; Gazelle exerciser; Crams Imperial World globe; 1930's lamps; 4 little red lanterns; 1970's games;   7 Up glass bottles with girl – Chicago; old Coca Cola glass bottles; Old beer Fecker Brewery bottles Danville, Illinois; Illiana milk jug; Terre Haute Bottling Co. beer; JC Higgins 1940's rifle single shot; crystal coffee grinder;   iron kettle;  6 parking meter heads; bricks from Brazil, Clinton, Wabash, Cayuga,  etc.;  2 Hummel  Goebal figurines; W C Fields statue; Fort Sill Oklahoma 1962 picture; set of 32 Harvard classics – 1910; 1912 History of U.S.; 1801 pottery milk jug with bail and lid; 2 jugs made at Veedersburg brick yard; 8' x 10' area rug; canner; table linens; set of Wm Rogers SP for 8 with box; sliding  glass bookcase; Kundo   clock;  white & red trim porcelain pans; iron skillets; iron favorite Dutch oven; cast iron griddle;  wooden chopping block; wood 2 shelf bookcase; old painted kitchen cupboard; cookbooks; salt crock; flour sifters; oak antique dining room server with 2 drawers; glassware – some depression; La z Boy floral sofa; oak coffee table; sofa table picture frames; Cracker Barrel wooden rocker; small wall shelf;  replica of USS Constitution; Mickey Mouse ears; collection of Autumn Leaf pattern from Jewell Tea; bell collection; foldup table; dressers; Toledo candy sealer with tray; fans; sheet music; Remo drum set – 8 pieces; 1948 Indy 500 model race car.
RAILROAD  &  DX  SIGNAGE –  CHICAGO WHITE SOX  BASEBALL MEMORABILIA
Danville Junction sign; old metal mile markers;  Northfork & Western digging signs; RR signs; early RR locks  – 1950's; later RR locks; N & W RR car seals – 1950's; metal RR lantern;  Barber,  Justrite,  Starlite; plastic RR battery lanterns – orange &  yellow Norfork & Southern; Virginia RR  amber color lantern; RR Terre Haute bricks;  Nickle Plate ball peen hammer;  NP shovel; NP scoop;  Cat Eye track sign; RR Derail switch; 1940 Nickle Plate RR ledger – Cayuga – Veedersburg;  RR records   from Chicago – Attica ; T144203 white signal light; train order box; telegraph key; mile post marker Tilton, Illinois; round red sign marker; boxes of RR paper letter heads; RR rule books; RR water cans;  time tables;  New York lantern; So Pacific oiler;  EI & I RR galvanized bucket; N& W RR bucket with spout; 2 caboose lights from Wabash RR;  4' x 8' train track board; O gage track and engine & cars; Athear miniature train and accessories; 2 train transformers; covered wagon engines, work engines;  DX motor oil sign; 3 DX original gas pump globes; DX Ethyl gas pump; Diamond DX gas pump 20 cents a gallon; DX road map holder; DX gas cans; Standard 5 gal. cans; Texaco; 3 Wareco window cleaning stations;  Phillips Repo Ethyl 1989 gas pump globe;  Master Manufactured glass oil jar;   Golden Rod oil can; Select 100 matic coin table record selector; small metal basket Hall of Fame signed baseballs including:  Ted Williams, Brook Robinson, Bob Feller, Duke Snider, Yogi Berra, Willie Mays;  collection of 8" pennants from 1942 -26; Pete Rose signed balls;  autographed Major League baseball bats; White Sox statues; 2001 signed scorecard; 1939 World Series  schedule with 1957 ticket stub; part of seat from Comiskey Park; Chicago White Sox bench with retired numbers; lighted score stat box; ball bat collection; Chicago White Sox pants and shirt dated 1953;  North Vermillion state champs autographed photo; Prohibition White Sox juice bottle.
BEER BOTTLE & SIGN COLLECTION – TOOLS
2 Schlitz ball rotating ball lights;  Schlitz beer sign; beer trays; beer bottle collection; 20 ft. alum. ladder; 40 ft. wood ladder; pulley old hand drill; old license plates; metal cabinet; coolers; mole trap; creeper; wrenches; hand tools; small vise; large bench vise; jacks;  Fisk battery charger; Skil saw; come along; power tools; garden plow; Sears push mower;  bench grinder;  lawn chairs; 2 air guns; Red Ryder BB gun; 10W 40 oil;  wood heavy duty tool chest on rollers; level;  Tool Shop auto measure tape; Husky 18" roto tiller; 38" lawn sweeper; 38" aerator; 3 ft. wooden tool box with wire bale; metal pen fencing; model T wrenches; Stihl weed trimmer; other items.
Terms: Cash or check with proper I.D. required for buyer number. No property to be removed until settled for.   Gene & Carol have sold their home and are moving out of the area.  All state and federal fire arms laws will be strictly adhered. 
Gene & Carol Fogleman – Owners  (765) 492-3668
Antiques – Collectibles – Furniture – Household – Railroad & DX Signage
Chicago White Sox Memorabilia – Beer Bottle – Sign Collection
Gene & Carol Fogleman, Owners