Seymour Estate Auction | Saturday, October 7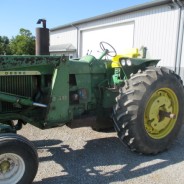 Location: 314 Walnut Street, Mellott, Indiana.  Southwest end of town. (Watch for Clingan signs) In case of rain, some of the auction will be held inside.
SATURDAY, OCTOBER 7, 2017
11 A.M.   
J.D. 4020 TRACTOR – FORD 700 GRAIN TRUCK
 2005 CHEVROLET COBALT – 1994 GMC SIERRA PICKUP 
J.D. ROTARY MOWER – J.D. LAWN TRACTOR – POLARIS 4 WHEELER
1969 J.D. 4020 Diesel tractor with 4,802 hours with # 158 loader, no cab; 2005 Chev. Cobalt, 4 door, 183,025 miles, gold exterior,  2.2 Echo Tek;  Ford 700 grain truck, 429 motor, 4 barrel, propane, 41,527 miles; 1994 GMC Sierra  SLE 1500 pickup, 125,405  miles,  J.D. D 110 lawn tractor; 1999 Polaris Sportsman 500 EBS 4 wheeler;  J.D. 709  rotary mower;  stainless steel  1,000  nurse  gallon tank.
TOOLS – ANTIQUES – HORSE EQUIPMENT – FURNITURE
Wheel ramps; Home Lite leaf blower; B & D hedge trimmer; Hahn Eclipse mower; grinder; Eskimo fan; Galvanized water can; Reddy heater; saw horses; Co op feed sacks; tarps; Polan  P1500 weed trimmer; old barn slider rail from barn; 6 shelf unit; bottle jack; crow bars; fence charger; drum pumps; hand saws; 2 pipe vises; mole traps; small bird cage; Superior #44 vise; Earthway seeder; 2 galvanized wash tubs; old car jacks; fence post; J.D. rims; horse pulled plows; wooden chicken crate; black horse weathervane; vintage head; rain gauges including: Waynetown tile; Peevler Seed & Grain – Mellott; Montgomery County Co op; Wickershams Hybrids; 4 chains; 50 gal. Farm King diesel electric pump; Belknap croquet set in box; #44 Simo sickle tool; bike; rough kitchen cabinet; wringer washer; Kelvinator refrigerator; 2 horse sulkies; hog squeeze gate; concrete mixer; gas grill; binders; galvanized cooler; extension cords; tin snips; wood cheese boxes; 36" pipe wrench; square nails; hatchets; Ditze lantern; Chicago saw; ¾ drive socket set; oil cans; yard tools; disc grinder; Craftsman impact wrench; chain hoist; Black Max air compressor; wood whiskey barrel no bottom; old fire box holder – no globe;  2 sulkies; horse tack; 2 saddles – rough; HI – can; West Rocket red wagon; few pieces of furniture.
Terms: Cash or check with proper I.D. required for buyer number. No property to be removed until settled for.  Generations Catering       Note: Walter was a longtime Mellott resident.
WALTER SEYMOUR ESTATE
Greg Clingan, Auction & Real Estate
404 Liberty Street, Covington, Indiana 47932
Phone: 765-793-7315 Fax: 765-793-7608
Facebook @gregclingan | 
www.gregclingan.com
Greg Clingan, Auctioneer
Indiana License Number: AU01040362
Illinois License Number: 441000318
Matt Perry, Auctioneer 
Indiana License Number: AU11500004