PUBLIC AUCTION: Saturday, January 29, 2022 – 11:00 am E.S.T.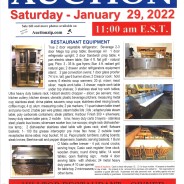 LOCATION: 1120 Liberty Street, Covington, Indiana.  (East end of town)
Watch for Greg Clingan Auction & Real Estate signs.
RESTAURANT EQUIPMENT
True 2 door vegetable refrigerator;  Beverage 2-3 door Mega top prep table; Beverage Air  1 door refrigerator upright; 2 door Sandwich prep table; 4 pan electric steam table; Star 4 ft. flat grill – natural gas; Pitco  3 – 35 lb. gas fryers; Star  4 ft. radiant grill natural gas; 2 drawer under refrigerators equipment stand;    2 gas convection ovens; 1 door glass proofer 74 ½ in. tall; gas 6 burner stove; 2 Crescor cook : hold ovens; 6 electric soup warmers; 20 qt. mixer; meat slicer;  maple work table – 3 drawer; maple work table under top shelves; 3 stainless steel top work tables; Ultra heavy duty bakers rack; Hobart electric chopper – slicer; pie servers; misc. kitchen cutlery; kitchen shears; utensils; plastic beverage pitchers; measuring metal cup; stainless steel; china plates; saucers; soup cups; stainless steel mixing bowls; coffee mugs; 4 qt. alum. measuring cubs; 2 pie markers; 11 quart steam table insert and pans round; 2 table pan wire grates; steam table lids ; lids ; adapter plate steam table; poly carbonate containers; steak platters; Harbour Finish 300 + silverware; heavy duty steam table pans; 2 mobile    bins; heavy duty carts 3 layers – stainless steel; plastic bus boxes; silverware soaker box; ice scoops; single rack dishwasher-low temp.;  2 dishwasher stainless steel table with glass rack; shelf; flatware baskets; 1- 100 lbs grease interceptor pre rinse flex hose; 2 outside trash  receptacles stone sides; mop bucket; 16 oz. Pepsi plastic tumblers; cutting boards; steak knives; Beehive salt and pepper dispensers; baskets; serving baskets; 1 Bunn O Matic coffee brewer – 4 pot; round crocks; serving trays; Casio cash register; time clock; wooden chairs; round dining table; 14 wood tables; open flashing sign;  metal 4 door serving table  with shelves; 24 metal heavy duty pans; # 10 can opener for table top; 2 microwaves;  other items.
HILLTOP RESTAURANT – OWNER
Pictures and sale bill available on Auctionzip.com / Use Auctioneer ID #1983