Public Auction – March 12, 2022 @ 11:00 am E.S.T.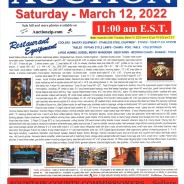 Auction date and start time: March 12, 2022 @ 11:00 am E.S.T.
LOCATION: 1126 Liberty Street, Covington, Indiana.  (East end of town)
Watch for Greg Clingan Auction & Real Estate signs.
COOLERS – BAKERY EQUIPMENT – STAINLESS STEEL EQUIPMENT – STOVES – TOAST P.O.S. SYSTEM TABLES 
TIFFANY STYLE LAMPS – CHAIRS – POOL TABLE – COLLECTIBLES                                        
 LARGE HUMMEL GOEBEL MERRY WANDERER – BEER SIGNS – WEDDING CHAIRS – SIGNAGE – TOOLS
Salad Station lettuce cooler; 2 section salad prep station, refrigerated tops, drawers. (bolted together)  ; stainless double cooler;  Traulsen meat cooler- removable racks; Toastmatic roll and food warmer / gas 22" x 22"; charcoal grill 66" x 29" on wheels; broiler  34" x 24" bolted together; gas bread warmer 19" x 29";  5 fryers all gas;    2 skinny ovens – gas;   2  prep tables 36" x 36" on wheels; stainless steel prep table 26" x 28";  griddle on top, oven on bottom;  2 – hoods 106" x 42"   x 2 – 144" x 42" ; ALL ONE UNIT- prep table- heat light, prep table, cooler 126" x 51";  158" x 51" for other two tables meat cooler / soup station – bolted together ; ALL ONE UNIT- Infrared heat lamps x 2, wheels, salad station, warming station ; 72" x 36" prep table on wheels – 2 shelves underneath; 3 sink station;  Manitowoc  Ice maker – 30 inches wide;    butcher block table 42" x 34 " x 36";   6 burner gas stove ; butcher block table 72" x 30"; Hobart bread Oven;   3 sink 17" x 13";  3 lettuce choppers;   Turbo Air Bar Fridge 90" x 27"- newer;  round Formica pedestal tables; Diamond pool table; hall mirror with marble ledge; sculptured serving bar with black marble top with 4 wooden stools with foot rail; 3 – 24 ft. oak ceiling shelves; 2 – 20 t. oak shelves with edge trim; oak and walnut iron + wood 4 ft. park benches;  Turbo AIr bar Cooler 95" x 25";  Toast Computer Systems 8+ stations; Ansul fire suppression system; Maple Corner memorabilia ; including: 24" metal cut sign, 6 ft. long framed glass hanging, wood leaf design hangings; open times 48" wood sign, guest manual wheel chair, Daniel Dakota wall clock with M.C. logo  Quartz Westminister chime, M.C. new shirts, other M.C. signs; 150 white wedding folding chairs – padded with carts; white wooden chapel wall hanging; 30" white Greek pedestal; 9 Champaign buckets; white drapery panels; bench; table; 5' x 8' beveled glass mirror;  framed mirrored beer signs; 50+ – 30" X 48" dining tables; 10 – 30" x 30" dining tables; 5 Formica 8 ft. folding tables; 48" x 48" oak cashiers checkout counter; Refrigerated oak 6 spicket; wine service section 6 ft. corner mirror; wine server; 50" padded chairs; small walnut corner shelves; Bar Maid and Glass Pro cleaning machines; 30 bottles of liquor mix; Little Golden books; tin wall flower pots; stainless metal cut signage; vintage umbrella stand; 30" round medallion wall hanging;  9 double channel back booths; 6 single channel back bothers 30" x 30" mirror & wood wall hanging; waitress stations; wood / glass tea cart; stainless serving carts; Hummel Goebel Merry Wanderer; Wurlitzer Wagon Wheel jukebox; chrome portable waiter table servers;  large outdoor sign with letters;  2 wood hostess podiums – oak; 7 ft. wood bar with shelf; 7 ft. cleaning station with sink; 3 and 5 unit Bunn coffee stations; Waring 18" H.D. Immersion blender; Lincoln lettuce slicer; Libby bar glassware; white table service for 260; plastic drinking glasses; Sysco silverware; new black platters; serving trays; paper products; guest checks; Prime electric mixer on stand; large wheeled food storage bins; floor fans; trash cans; 4 Koda Kare kids chairs;   2 Robot O Coupe R2 3 qt. food processors; cutting boards; 200 wood bread cutting boards; knives; cleavers; strainers; large S.S. mixing bowls; "Honey Can Do " stainless shelf units; lazy Susan's; aluminum cookware; silverware trays; plastic bus boy tubs; 5" cast iron skillets; Hanson scales; Helix sweeper; large kitchen cooking utensils; rug shampooer; open wood storage cabinet with shelves; 6' x 6' wine shelf; many 6' x 5' cooler racks; refrigerator dolly with alum. trays; chrome shelving racks; small hand tools; milk shake machine; meat heat lamp; food gauges; French fry cutters; 5 new Chafer bowls; 8 -17" oak shelf brackets; shop vac; VCR; Digital signal processor; desk organizers; gallons of cleaning products; 3 – 4' x 8'; beer signs including:  Lowenbrau, Michelob, Lord Calvert, Kessler, Bacardi, Busch, Strohs, Beringer, Cheves; insulation board; blue and red pex line; squirrel work station terminals; bench vise;  drill; bench grinder; Kenwood stereo amplifier; white love seat with 2 matching chairs; vintage white painted buffet with Queen Anne legs and mirror; small mirror;  buffet; French wine pictures; 5 wood wine crates; gas boiler system including copper piping; assorted wall mirrors; 24" x 30" grape pictures; 13 Tiffany style hanging lights; 8 oak Kimball office chairs; 3 secretary swivel chairs on rollers; 2 small SAIAV garment steamer; Edmund digital scale; fake pastries; 12 booster seats; many other items.
Terms of Auctions:  Cash or check with proper I.D., I.D. for buyer number.  All property to be settled for day of sale.   No property to be removed from premises until settled for.   Not responsible for accidents or goods after sold.  Auctioneers and sale personnel work as selling agents only and assume no liability or guarantees.  Announcement's day of sale take precedence over printed matter.
Note: 2 rings may be running during a portion of this auction
Go to AUCTIONZIP.COM (Auctioneer ID #1983) to see more pictures.
Direct link…copy and paste into your browser:  https://www.auctionzip.com/IN-Auctioneers/1067.html
Note: Inspection Date: Thursday, March 10, 2022 from 4:30 pm TO 6:00 pm E.S.T.
FOUNTAIN COUNTY COMMISSIONERS – Sellers