Public Auction – Saturday March 26, 2022 at 11:00 am CDT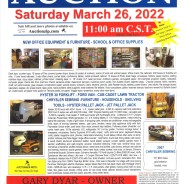 Public Auction – Saturday March 26, 2022 at 11:00 am CDT
LOCATION:  801 Perrysville Ave., Danville, Illinois, or 1/2-mile North of  I- 74 Exit #216  (South end of Danville)
Watch for Greg Clingan Auction & Real Estate signs.
Note: Auction held in the large, heated Shick Office building/warehouse.
NEW OFFICE EQUIPMENT & FURNITURE – SCHOOL & OFFICE SUPPLIES
Desk tops, counter tops; 15 boxes of Flex connect power drops; boxes of castors & markers; reams of lined and unlined paper; office chairs; file cabinets; 40# boxes of Sulphite art rolls;  6 over head cabinets; 3 oak office chairs; corner desk; conference tables; metal enclosed cabinet; 13 boxes of Rhino trash bags; envelopes; folders; paper clamps; adding machine tape; copy paper; cabinet; printer toner; masking tape; 3 – 18" chairs; H.P. laser jet toner; children's games; corrugated paper; 3M overhead projector Caddy; notepads; computer paper; theme kits from mail box; Pacon sentence strips; classroom banners; incentive punch cards; mini bulletin board; tapered pegs;  Crayola crayons; fabric markers; chalk; art paint brushes; glue; erasers; construction paper; activity books; scissors; rulers; stickers; pencils; Little Reader books; tablets; poster board;  yard sticks; file storage boxes; calendars; staples; dry erase board; tape; pens; hand pointers; desk supplies; trash baskets; file folders; Victor calculators; glitter; teaches stamps; teachers reward kit; Bulletin board art; chalk board; art paper rolls; gallon of Tempra paints; art paper; Wiggle eyes; streamers; many other new items.
HYSTER 30 FORKLIFT – FORD VAN – CUB CADET LAWN TRACTOR                                                               
CHRYSLER SEBRING -FURNITURE – HOUSEHOLD – SHELVING
TOOLS – HYSTER PALLET JACK – JET PALLET JACK
yster 30 lift truck with 4254  hours – L.P.; Hyster pallet jack – 2,500 lb. capacity with fork extenders;  2002 Ford F series van with 490,795 miles;  2007 Chrysler Sebring with 151,883 miles;; Jet pallet jack – 5,000 lb. capacity; Cub Cadet LT 1046 lawn tractor with hydrostatic drive ;  Craftsman 5 H.P. Chipper; Coleman Powermate  #6250 generator; 10 – 8 ft. folding tables; 8 – 6 ft. folding tables;  metal shelving;   lateral file cabinets;  5 sets of golf clubs; 4 shopping carts; window air conditioner; many rechargeable drills; stack of moving blankets; stereo;  gas cans; binders; heavy duty appliance dolly with belt; Paymaster check writer; yard tools; floor mats; several step ladders; Fellowes power shredder; ext. cords; trash cans; 15 file cabinets; G.E. refrigerator; NY Lint toy grader; Tennsco storage locker; 5 sweepers; microwave; Sentry Supreme 5310 safe; copier;  sofa; pots and pans; pegboard display units; plastic magazine rack; phones; metal island shelving; 2 end tables; Ethan Allen sofa; oil lamp; printer; antique post hole digger; large office counter;   bed frame; round oak dining table; oak rocker; 4 wood chairs; aluminum extension ladder; wood ladder; sprayer; jumper cables; garden hose; 3 section scaffolding and walk boards; several; industrial shelving; miter saw; several shop vacs; Christmas ornaments; stuffed holiday décor; metal carts and dollies; cash boxes; antique oak cabinet and sewing machine; sports games; many hand tools; turkey cooker; kids toys; oil lamps; Schwinn  Continental bicycle; Schwinn racer; Schwinn Aerostar; F3 Hard bicycle Co Bike ($300.00 new); Huffy Sportsman bike and others; Like new – 2 Cooper Discover tires Lt 225/75 R18 M&S; Like new – 2 Grantland milestar tires P-235/75 R15 with rims; Solar shades; Linit auto punch; lamination film;  Dick Van Dyke prop from 1960's "Bye Bye Birdie" show – Dick was in Danville Il on stage with prop during the show; Remington electric chainsaw; Jasper Steam Bent Ind Oak desk chairs with Heritage Cherry finish – $400.00 new; wire raceways; 12 ft. x 1 ft. Oak panels; chair glides; rocking chair with no seat; totes; flex glass room divider; rolling carts; 30 raw small metal cabinet; electric pencil sharpeners; lawn chemicals; house and floor paint; pictures; many other items.
Sale bill and more photos available on Auctionzip.com   (Auctioneer ID#1983)
Direct link to Greg on Auctionzip.com…copy and paste into your browser:  https://www.auctionzip.com/IN-Auctioneers/1067.html
GARY DYAR – OWNER
Terms of Auction: Cash or check with proper I.D.,  I.D. for buyer number.  All property to be settled for day of sale.   No property to be  removed from premises until settled for.   Not responsible for  accidents or goods after sold.  Auctioneers and sale personnel work  as selling agents only and assume no liability or guarantees.  Announcement's day of sale take precedence over printed matter.
Auctioneer Note: We may run two (2) rings.